The Sustainable Development Goals in Jordan
The Sustainable Development Goals are a global call to action to end poverty, protect the earth's environment and climate, and ensure that people everywhere can enjoy peace and prosperity. These are the goals the UN is working on in Jordan:
Story
01 June 2023
Jordan's farmers respond to water scarcity woes with innovation
JORDAN (Northern Shouneh)— For Hosni Al-Rayahnah, a 63-year-old farmer in Northern Shouneh, Jordan, climate change and water scarcity is an everyday reality.

"Things have changed over the past few years, as the climate has become hotter with less rain, which affected the quality and quantity of my crops," says Al-Rayahnah, who started farming 20 years ago.
"For me and other farmers, we struggled to afford enough water to weather the impact of heat waves on our crops. Water pumping has been reduced to our farms due to the limited water supply. Some of us were about to quit the profession," he explains.

Jordan is one of the world's most water-scarce countries, with as little as 61 m3 of water available per person every year. In addition, limited water resources are fueling competition between the agriculture, domestic and industrial sectors. The agricultural sector, which consumes 51% of the country's freshwater resources, is especially vulnerable to climate change and water scarcity.

Population growth affected by waves of refugees, economic and agricultural demands, and the adverse impacts of climate change have further compounded the water scarcity challenge.

Economically vulnerable communities like Al-Rayahnah's, particularly those in rural areas, are among those most heavily impacted by the decreasing water resources. Seeds of change The UN is enhancing its collaboration with the Government and people of Jordan to address the growing issue of water scarcity and advance progress on Sustainable Development Goal 6 on clean water and sanitation. The Kingdom of Jordan has recently launched a new water strategy for the years 2023-2040, which outlines the government's goals and plans to achieve water security.
Lowering reliance on freshwater by increasing use of reclaimed water for irrigated agriculture, more efficient irrigation systems, and expanded rainfed agriculture and rainwater harvesting are one of the key priorities included in this strategy. "The UN is proud to partner with the Kingdom of Jordan as it addresses these unprecedented water challenges," said Sheri Ritsema-Anderson, the UN Resident Coordinator in Jordan in a visit to Northern Shouneh. "The UN is supporting national and local government to better respond to climate change impacts and vulnerabilities," she added. "This includes technical support to concerned authorities, public awareness, and implementation of projects on the community level, such as rooftops rainwater harvesting, use of water saving domestic devices, use of reclaimed water and water networks rehabilitation." Bringing innovation to irrigation

Hope has come in the form of new knowledge with the farmers learning new irrigation methods which have helped expand production, grow new varieties of fruits and vegetables, and use water efficiently.
Al-Rayahnah and other farmers in the Northern Shouneh, joined the Farmers Field Schools (FFS) supported by the Food and Agriculture Organization of the United Nations (FAO), an initiative that has been running since 2018 in Jordan.

The main goal of the schools is to improve farmers' skills and facilitate the adaptation of best farming practices for more sustainable water and food management.
So far, more than 1,500 farmers joined these schools.

"The primary goal of these schools was to help save water for irrigation. After implementing water efficiency methods including drip irrigation I increased the size of my farm as I started using almost the same quantity of water to water more crops and plant more varieties," said Al-Rayahnah. These schools are among several projects and initiatives that FAO is implementing to improve sustainable agricultural water management and increase water efficiency for irrigation. Water harvesting is another technique that farmers in Northern Shouneh are being supported with, thanks to a collaboration between FAO and Jordan's Ministry of Water and Irrigation. "In the context of water shortage and as the agricultural sector consumes about half of the country's total available water, adopting good agricultural and irrigation practices that improve water efficiency and water productivity is necessary for sustainable water management and for a better production." said Nabil Assaf, FAO Representative in Jordan.

"Climate smart agricultural systems, farmers' capacity building on best practices and rainwater harvesting are part of what we are implementing to increase water availability through non-conventional resources and enhance water use efficiency for agriculture. This will lead to better production, better nutrition and better environment for a better life, leaving no one behind," Assaf added.
Shifting agriculture for water use

The shift in water use and efficiency is driving new innovations across sectors that can help deliver impact. FAO is also providing assistance to Jordan to expand hydroponic and aquaponic farming, which provide another opportunity for the water-scarce country's agriculture sector to produce more crops, while using less water.

In cooperation with the Ministry of Agriculture, FAO established a nursery in the North of Jordan to implement this method and so far, 1,500 farmers and students have learned the techniques of hydroponics and aquaponics farming, according to Bahjat Sawalmah, head of the AlFaisal Nursery.

Sawalmah said that these new techniques save up to 80% of water usage, compared to the traditional techniques. "In addition, it ensures the continuity of having high-quality products like strawberries, tomatoes, cucumbers and leafy vegetables throughout the year". In addition to aquaponics, nearly 400 public buildings and 7,850 households will be fitted with the roof top water harvesting structures, with the support of FAO and partners.

This is helping build climate resilience at the household level with improved access to water and efficient water use as well as in selected public buildings such as schools, mosques, municipalities with the help of water harvesting at the local community level.

For farmers in Northern Shouneh, these are steps on a long journey ahead, reshaping the future of farming and food security in Jordan.

"More collective action is needed to address these long-standing impacts of climate change and ensure sustainability of agriculture. We need maintain this industry but we need to change and adapt. This is fundamental to ensure food security for the future generations", Al-Rayahnah concluded. This article was written by the UN Resident Coordinator's Office in Jordan with editorial support from UN DCO.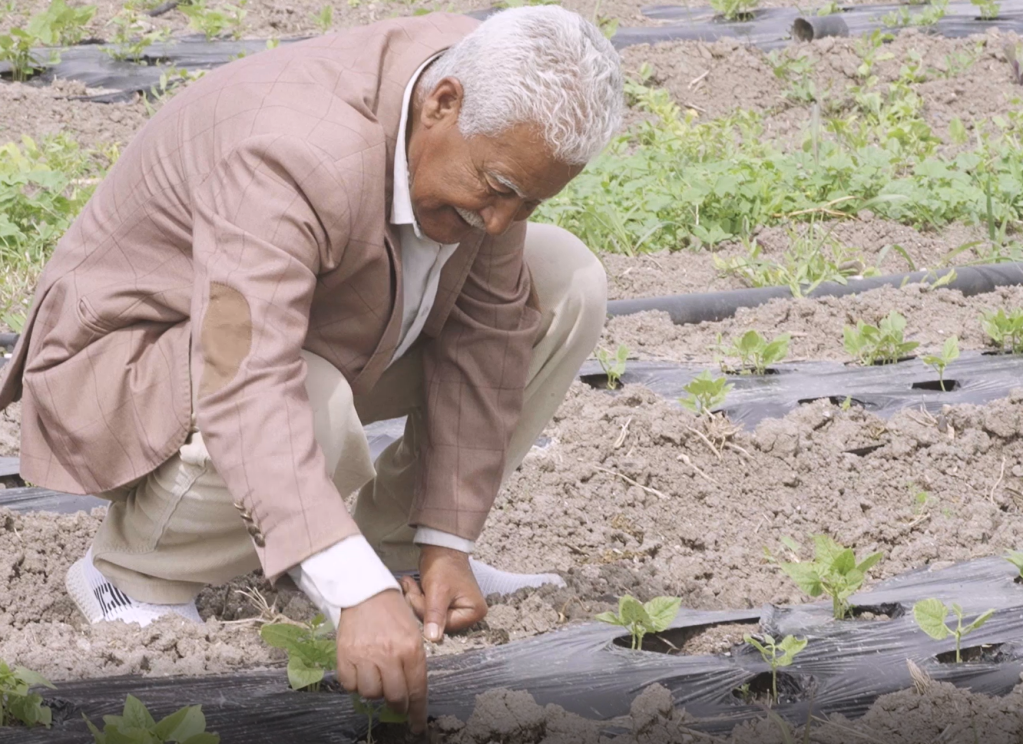 Press Release
20 June 2021
On World Refugee Day, Jordan continues to be the second host country of refugees per capita in the world
Jordan continues to be the second host country of refugees per capita in the world, according to UNHCR, the UN Refugee Agency. Currently home to over 750,000 refugees, Jordan has time and again opened its doors to those forced to flee. Today, more than 10 years into the Syria crisis, the vast majority of Jordanians - 94 percent - still say they are sympathetic towards refugees.
This positive attitude towards including refugees in Jordanian society has also extended to the health sector. Since the start of the COVID-19 pandemic, refugees in Jordan have been included in the national response and, more recently, have been able to receive the vaccine free of charge. 40 percent of eligible refugees living in refugee camps in Jordan have now received at least their first dose of the vaccine.
Despite this, the COVID-19 pandemic has put a strain on health care, schools and our communities, severely impacting refugees and their Jordanian hosts, and pushing more families into poverty. This means refugees are increasingly resorting to moving to lower-quality shelters, skipping rent, accumulating debt or reducing food expenditure. In addressing these challenges and building back better, UNHCR is committed to supporting both refugee and Jordanian communities.
"Our assistance to refugees must be part of the broader recovery efforts to help all those affected by the economic impact of the crisis. The COVID-19 pandemic has illustrated that we all have a role to play in keeping each other safe." said Dominik Bartsch, UNHCR Jordan Representative. "UNHCR is dedicated to work with the Jordanian Government to ensure that the needs of vulnerable refugees and Jordanians are met," Bartsch added. In recognition of the skills refugees have to offer, on World Refugee Day, UNHCR is launching a Nursing and Health Care Lab in partnership with Luminus Technical University College (LTUC), which will benefit both refugee and Jordanian students. Using the latest medical equipment, machines and amenities for Pediatrics, Maternity, Obstetrics and Gynecology, the lab simulates the environment of a hospital providing vocational training to ensure students' smooth transition to the labor market.
Additionally, through a collaboration with the UN Chamber Music Society and in a performance led by Jordanian singer, Leen Alfaqih, and accompanied by a refugee choir, UNHCR Jordan is using the power of music to highlight that 'Together, we can achieve anything. Together we can heal, learn and shine.'
Take Action
14 June 2021
مبادرة "فيريفايد" Verified
لن نتمكّن من احتواء الفيروس وآثاره إلا إذا أُتيحت لكل شخص إمكانية الوصول إلى معلومات دقيقة وموثوق بها. إنّ Verified هي مبادرة أطلقتها الأمم المتحدة للتصدّي للمعلومات غير الدقيقة والكاذبة من خلال توفير محتوى يمكن الوثوق به: معلومات منقذة للحياة ونصائح قائمة على وقائع وقصص تروي أفضل إبداعات الإنسان.