Story
Women in Jordan utilize technology to address challenges in their communities, households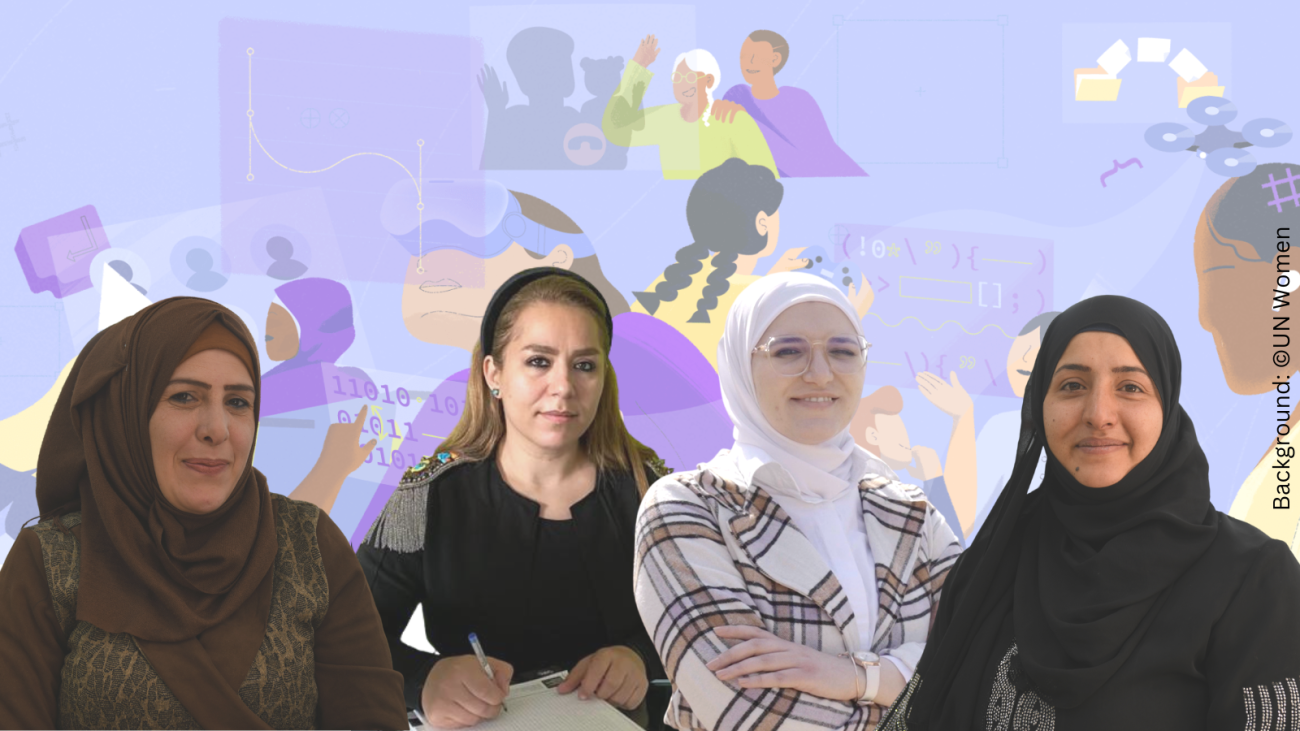 As we celebrate the International Women's Day, meet four women in Jordan who deploy technology to address challenges on different levels.
While technology is rapidly advancing, potentially widening the existing digital gender gap, women and girls in Jordan choose to keep pace against all odds – they decide to power on.
The Global Gender Gap report (2018) shows that 75% of jobs will be related to Science, Technology, Engineering, and Mathematics (STEM) areas by 2050. Yet, today, women hold just 22% of positions in artificial intelligence (AI) globally, to name just one.
In Jordan, UNESCO revealed that females represented more than 60 per cent of students in the natural sciences, medicine, dentistry and pharmacy in 2022. However, figures for female students in engineering and computer science lied around 28 per cent and 45 per cent, respectively, during the same period.
While the situation in Jordan presents an encouraging picture, the need to increase women and girls' representation across technology and innovation fields becomes more pressing than ever.
As we celebrate the International Women's Day under the theme: "DigitALL: Innovation and technology for gender equality", meet four women in Jordan who deploy technology to address challenges on different levels.
Salma powers on digital agribusiness to address water scarcity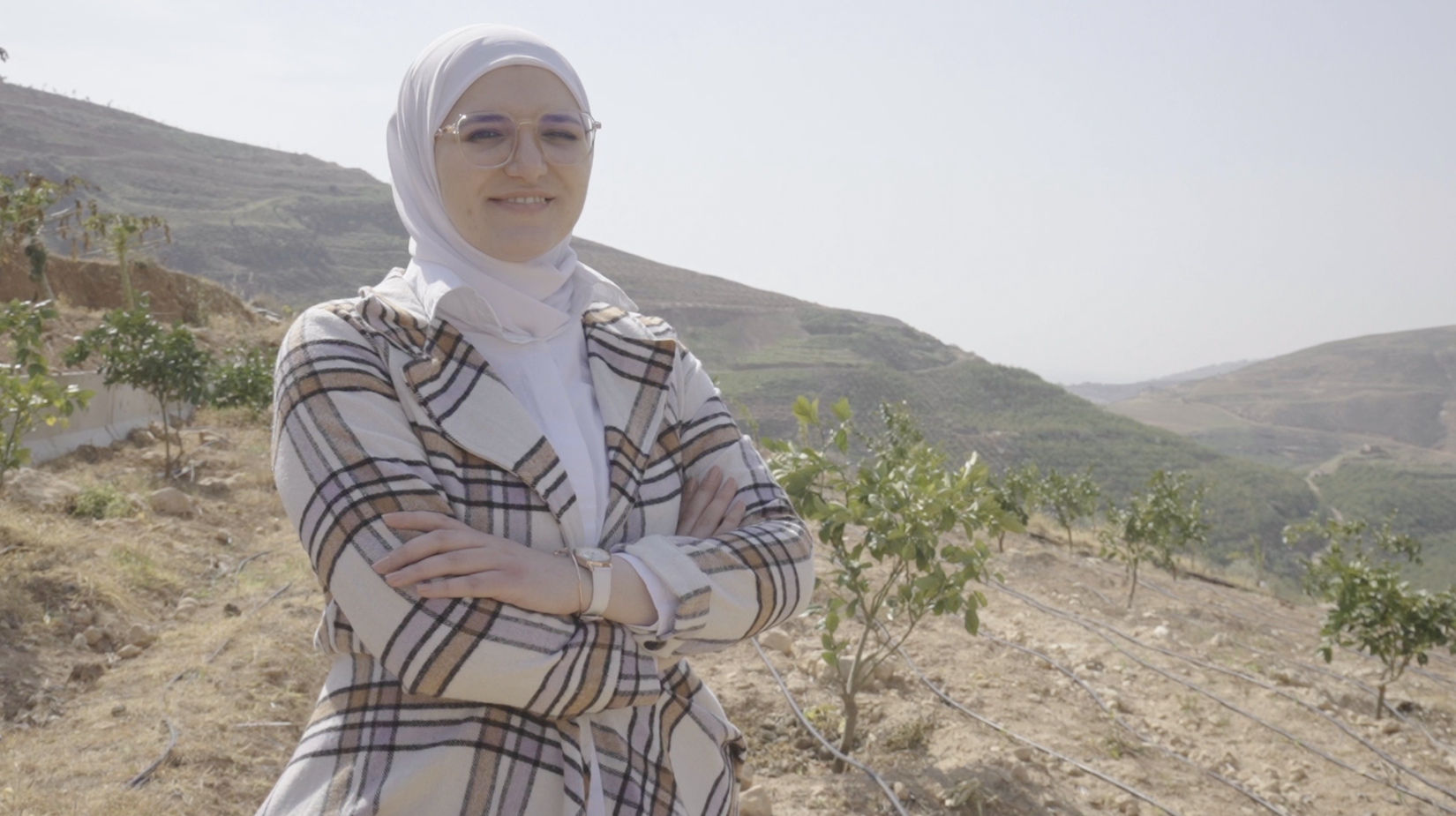 Salma Amayri, a Jordanian Electrical Engineer, utilized her education and knowledge in developing innovative systems that help farmers to reach the optimum use of water and fertilizers by delivering the precise amount of water and nutrients to plants in a timely manner.
As Jordan is one of the most water-scarce countries in the world, Amayri's innovation contributes to addressing water scarcity challenge in the agriculture sector.
Her innovation "Smart Irrigation and Fertigation System" contributes to save up to 30% of water consumption in open fields and up to 70% in closed systems, by providing remote control of farms' irrigation anytime and anywhere using the Internet of Things and at a competitive price. Compatible with several types of cultivations and crops, provided by "Touch Screen" with a user-friendly multilingual interface. 
As a Co-founder of "Smart Green for AgriTech Solutions" startup, Amayri was one of seven startups that received training and capacity building through UNDP's SDG climate facility project "Scaling up Water Innovation for Climate Security in Northern Jordan".
Her participation in the SDGs Climate Facility Project, provided her with the opportunity to further develop her business. Through the support she received, Salma presented her project at a side event at the MENA Climate Week in Dubai in March 2022, allowing her to connect internationally and highlighting her startup technology at the MENA region. Additionally, the project supported smart green by providing a capacity-building training including business and technical training sessions in the field of leadership, marketing, finance, and water management. Moreover, the project gave smart green the opportunity to implement a pilot for their innovative water technology at Jerash governorate, in the North of Jordan.
UNDP's SDG climate facility project aims at scaling up innovation in water management for climate security in Northern Jordan through targeting startups. The project has been running since 2021 and will be implemented over two years with the aim of strengthening the management of water resources in the governorates of Jerash and Mafraq as part of the regional SDG Climate Facility project: Climate Action for Human Security in the Arab States.
According to Amayri, more women are needed at the forefront of tech to address the diverse challenges facing their communities.
"It's vital to inspire and empower next generation of female role models to create a more diverse and inclusive tech world. We need more women to be at the forefront of tech and innovation alongside the men", said the 30-year-old entrepreneur.
Enas Radwan powers on AI to promote the recycling culture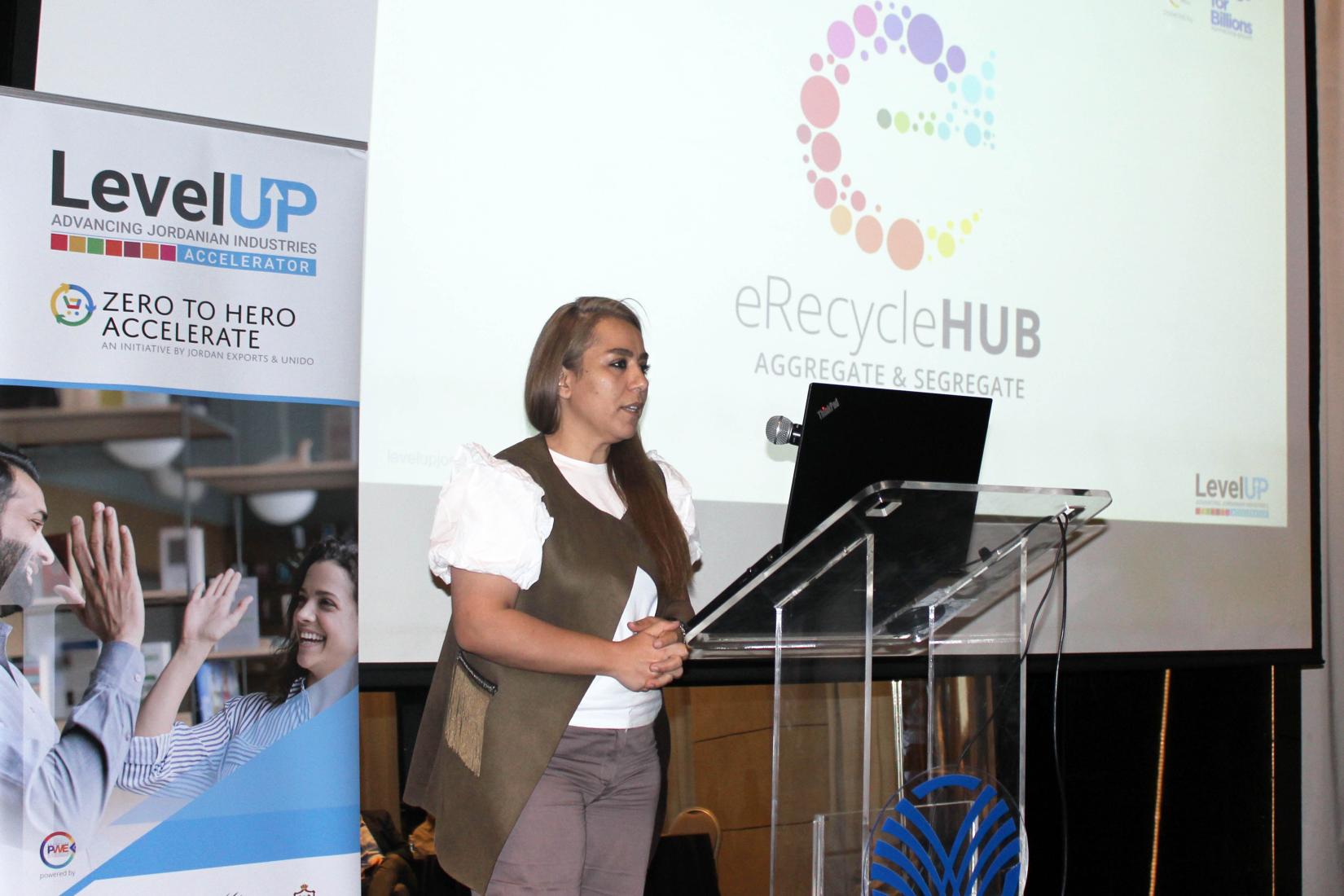 Radwan's interest in recycling, prompted her to team up with other Jordanian entrepreneurs to develop eRecycleHUB; a social platform that provides users with a convenient, accessible and affordable tool to recycle more effectively.
As Jordan faces increasing pressure on its waste management infrastructure, Radwan and her partners project, contributes to enhancing the average recycling rate, while supporting low-income communities in earning profits from recycling to positively impact their livelihood.
Her interest in recycling business goes back to 2018, when she realized that there is a need in Jordan to provide recycling service and reach out to people to encourage them to preserve environment and get rewarded for their recyclables or donate them for a good cause.
In 2021, she teamed up with other partners and developed eRecycleHUB platform. Users can sign up to the platform using the mobile or web application, book a collection time when eRecycleHUB's collectors are in the relevant area and receive points for providing various forms of recyclable waste for collection.
Recycling materials are thus called "social recyclables" for they can provide both environmental as well as social benefits, according to Radwan. Through her start-up, Radwan offers waste-identification AI software that identifies the recycling availability of certain waste items to increase the value of collected recyclables while also enhancing the recycling behavior of the community.
Radwan received two grants from UNICEF to develop her business, and participated in the LevelUP accelerator initiative in 2021, a program by UNIDO that aims at supporting entrepreneurs, innovators, SMEs, start-ups, and organizations to build successful business models to enter global markets.
The LevelUp initiative encourages a community of young women and men who are motivated to achieve an inclusive and sustainable digital transition and share their experiences of digital transformation. Radwan was recognized as one of the top entrepreneurs who completed the required phases of the program and received the title of Champions of Digital Change.
''The levelup accelerator program provided the dotted lines and interactive pathway for us to build our business from the ground up in a structured way," said Radwan.
She added that as a participant in the program, it was a great opportunity for her to receive the right support and ensure creating a validated business all in one place.
Rola and Nahid power on technology to fix home appliances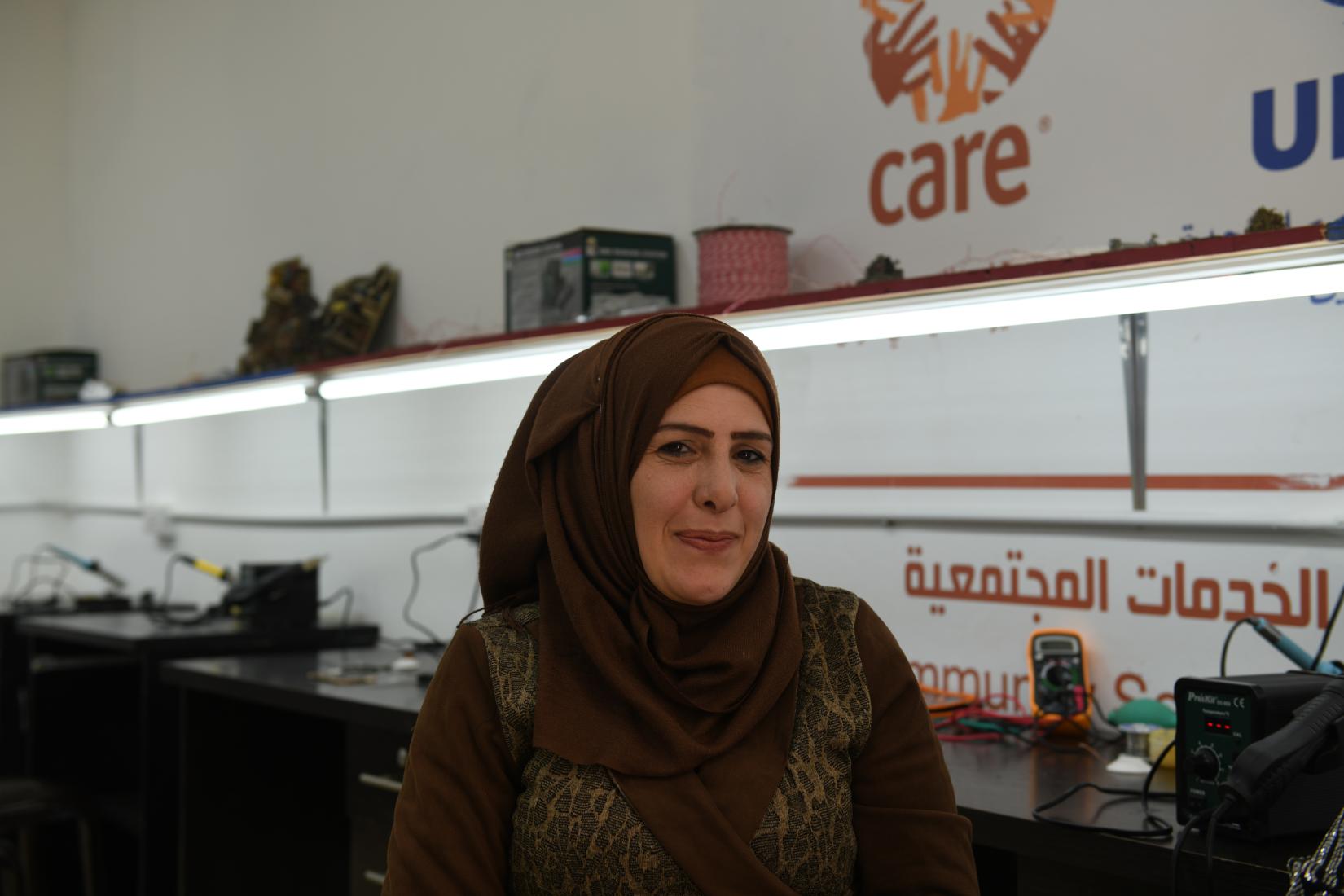 For Rola and Nahid, technology literacy can be helpful at the household level.
Both Rola and Nahid are currently enrolled in mobiles maintenance training funded by UNHCR and implemented by CARE in Azraq camp for Syrian refugees.
"I want to master this field -Technology" said Rola, a 32-year-old mother of six.
She added that she wants to rely on herself to fix devices used by her family.
"Unexpectedly, I loved this field, while I thought it's complicated. Now I won't stop on mobile maintenance, but I want also like to learn fixing TV screens, and laptops."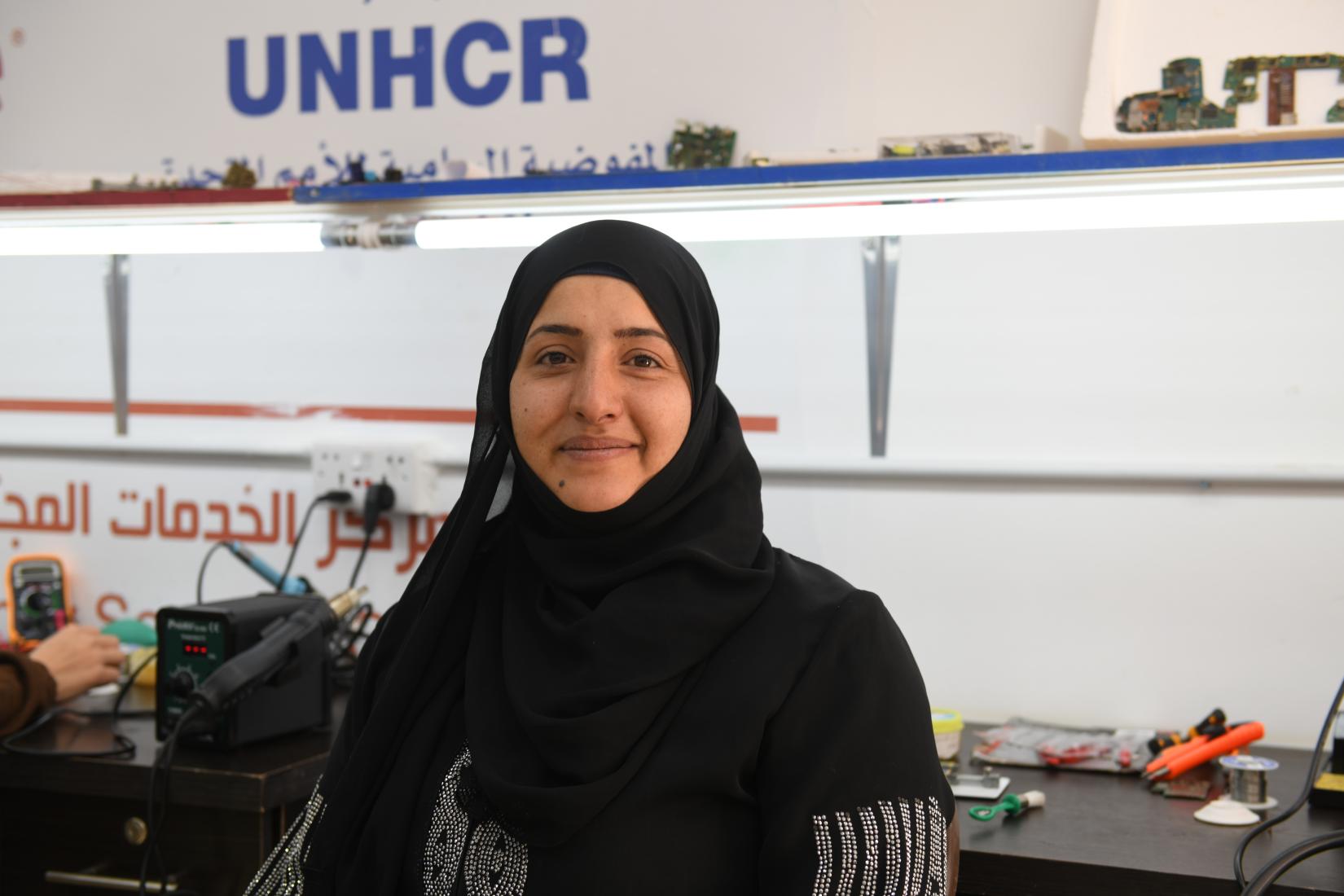 For Nahid, however, she wants to be a role model for her own children in this field.
"We have a duty to grow the love of knowledge in our children, that's why I need to educate myself first."
"I was afraid to enter the technology field, and I think many women and girls are feeling the same. I'm now aiming at encouraging the females in the camp to join such activity, it is the future," said the 30-year-old Azraq camp resident. "Technology is the future, and I want to be part of it."
Now, there are 12 female and 18 male participants in the training provided by UNHCR at the camp.
UNHCR in partnership with CARE established the Technology Lab activities in Azraq camp at the community centers. The Labs are equipped with devices and access to internet, in which enables Azraq camp resident to participate in and learning courses. The technology learning programs include basic computer skills, basic coding learning, internet browsing and use.
These stories were contributed by UNDP, UNIDO, UNHCR and edited by the United Nations Resident Coordinator Office in Jordan
UN entities involved in this initiative
RCO
United Nations Resident Coordinator Office