Story
Young Jordanians tackle food security challenges through innovation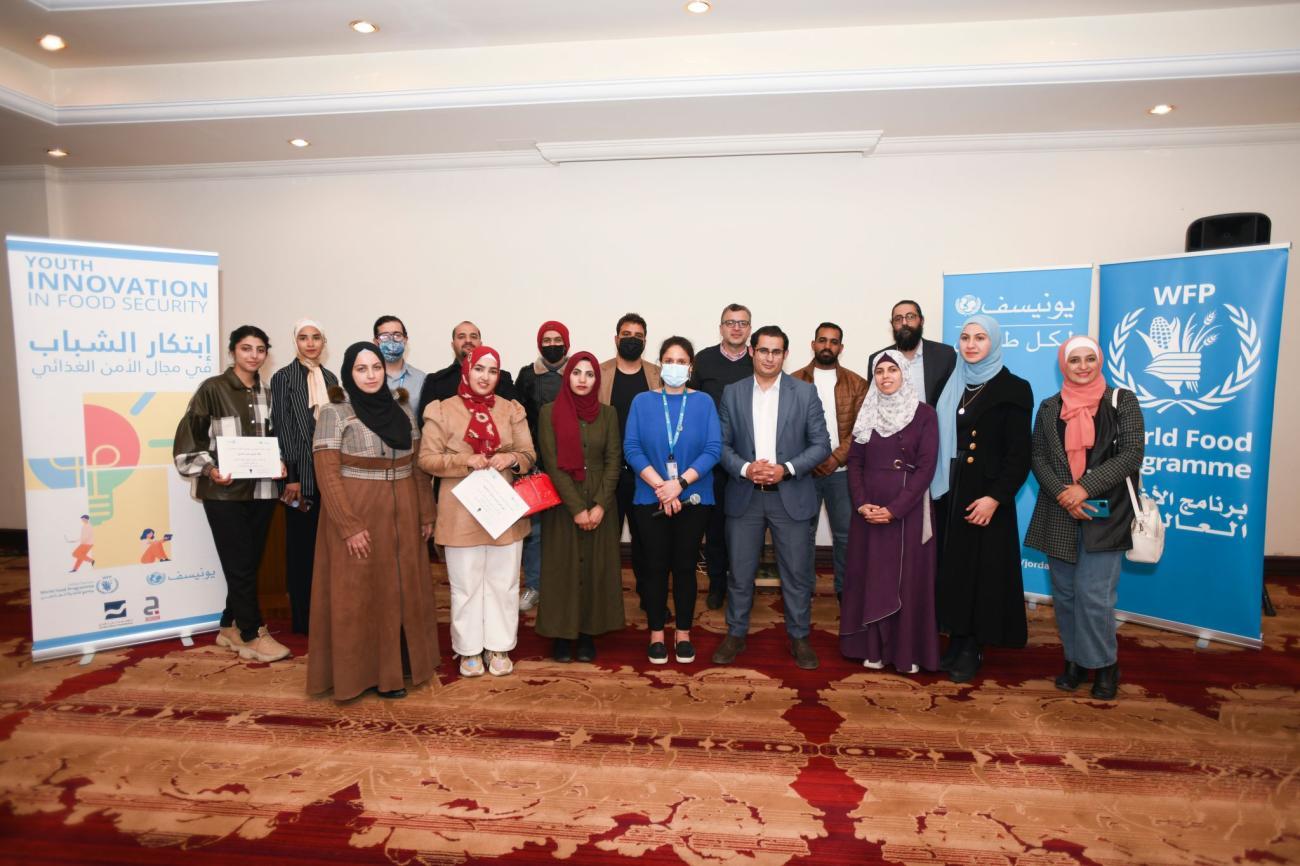 The joint UNICEF-WFP initiative provides young innovators in Jordan with a range of different capacity-building programmes in entrepreneurship...
As the effects of climate change and global crises continue unfold, food insecurity has become a challenge facing more and more countries around the world. In Jordan, young people are coming together and using local innovations to address systemic food security issues facing their communities and overcome the various factors including slow economic growth, high youth unemployment, water scarcity and increased cost of living that are driving the current food crisis.  
UNICEF and WFP have joined forces to support these youth-led efforts to tackle food insecurity and create more opportunities for youth entrepreneurship and green innovation across the nation. As a country with one of the youngest populations in the world, (63% under the age of 30), it is crucial that UN teams help mobilize young people in nation-wide efforts to address food insecurity.  
The joint UNICEF-WFP initiative provides young innovators in Jordan with a range of different capacity-building programmes in entrepreneurship and innovation within the food security sector. The programme spans the whole innovation cycle, from the early stages of coming up with a concept, to implementation and scaling up to turn ideas into action. 
The young innovators received training on the implications of food insecurity, opportunities and challenges directly linked to food security, the role of technology in shaping the future of food, strategies for changing the traditional food chain, production, distribution, processing, marketing, consumption and digital marketing 
With ideas ranging from addressing solid waste, to recycling fruit and vegetable peels to developing healthy school meal alternatives; a group of 22 young Jordanians between the ages of 18 and 26 participated in a joint Youth in Food Security Innovation Programme to help them launch start-ups working on food security solutions in Jordan. 
"Gold Sands"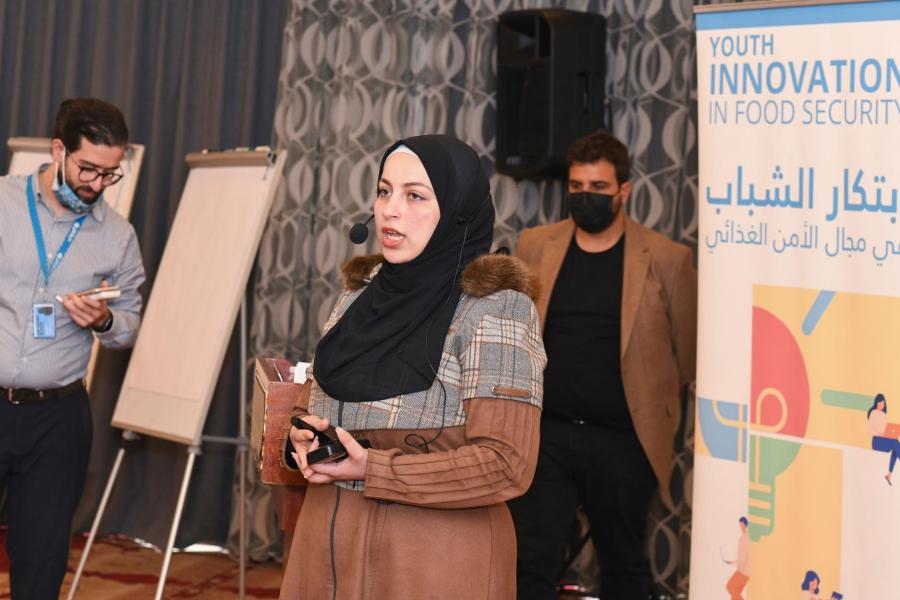 Aya Kreik is a young innovator and architectural student from Amman. Together with her team of fellow students, Aya developed a project which effectively converted farm waste into organic fertilizers. These fertilizers were rich in nutrients, helping to revive the soil and encourage farmers to avoid using the harmful chemical alternatives.  
"My innovation idea aims to increase plants' immunity to diseases and helps the soil to retain water in a large proportion, which reduces the amount of irrigation water needed. A modern method for treating waste and does not produce greenhouse gases". Aya explained. 
"We started our project at the beginning of the pandemic. With the lockdowns, we thought of ideas to become self-sufficient when it comes to food." 
Aya explained why the demand for more sustainable food consumption in Amman is so high.  
"The Jordanian Capital, Amman, is a very crowded city and there are no available spaces for farming. In addition, not all people are interested in healthy and organic food, because of lack of awareness and high prices. So, we were determined to raise awareness about the importance and benefits of this [organic] food. " 
"I am proud of where I got to today. We are about to start the first multiple-output, women-led farm in Jordan. We, young people, need to think out of the box and come up with new ideas related to environmental sustainability," said Aya. 
Ar-ena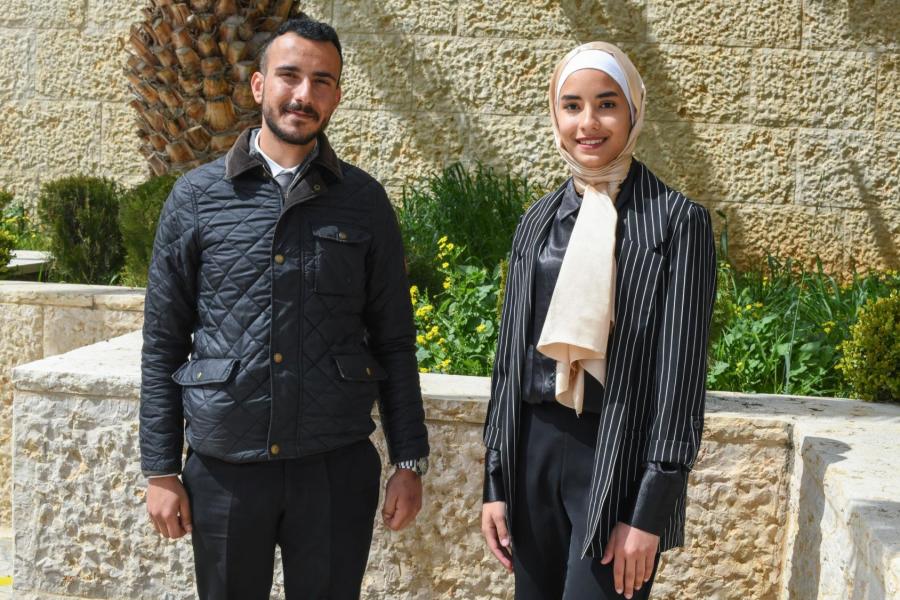 Banking and Finance graduate Alaa, and Business Intelligence student Nourhan, decided to create a joint start-up that produces self-watering and self-feeding plants using only air. They produced a new type of hydrogel, consisting of self-absorbing polymers that can transform moisture in the air into pure water, with an infinite number of uses. 
"I started the project with Norhan as a business developer and entrepreneur. Our goal is not to make money, but to leave an impact and change people's lives. Climate change is having direct impacts on food security, the air we breathe and the water we drink. We all need to take action.  
"Our next step is to turn this idea into a reality. And we are considering further exploring environmental businesses. Our environment is a great resource, and we can use it sustainably," said Alaa.
FIFA Organic Capsule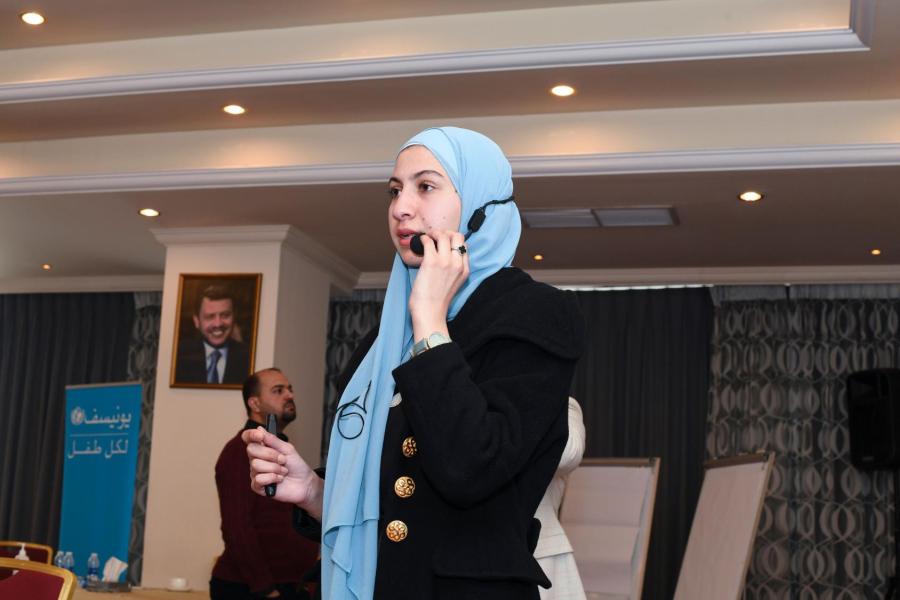 For Fatima, a 20-year-old pharmacy student and one of the participants in the UNICEF-WFP training, her love for plants encouraged her to come up with an innovative solution to increase agriculture production levels and help tackle the systemic food security issues facing the country. 
Fatima developed an organic agricultural capsule which helps farmers increase their agricultural productions.  
"I have always liked plants, and this project matches my love for them and my education. During the COVID-related lockdowns, I had plenty of free time and I tried to use it creatively." 
"It was very challenging to create the capsule. It took me more than a month to figure out. I believe that as soon as you get an idea, you need to make use of it and begin implementing it without any delay. Believe in your idea, and it will turn into reality using your innovative efforts," said Fatima. 
Limonine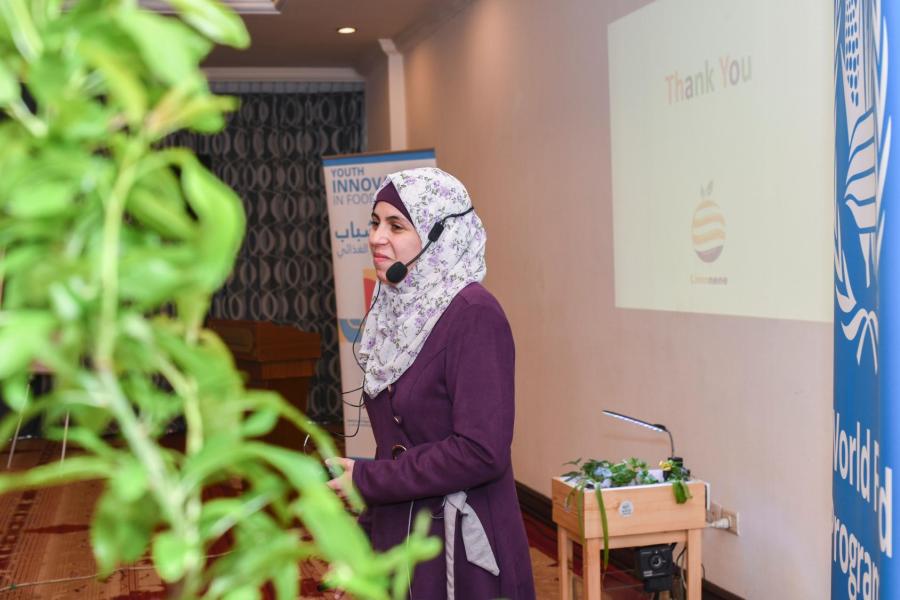 Agricultural Engineer Alaa Thalji is another young innovator who participated in the joint UNICEF-WFP training. Her project focuses on recycling the peels of fruits and vegetables to produce a chemical polymer which removes 99% of the heavy metals found in water.  
She explains that she came up with the idea during her second year of university. 
"I took a class called Environmental Chemical Pollutants, that introduced us to the danger's pollutants pose to our health. And another class called Drinking Water Treatment, where our professor kept telling us how water containing heavy metals cannot be used for drinking purposes. Here I thought about the many water sources that we unfortunately cannot make use of, and I started working on a chemical polymer that is organic and safe, made from the peel of citrus fruits, that removes heavy metals from water by 99%."  
The joint programme was a successful way of helping young innovators in Jordan identify problems in their own communities and use their entrepreneurial skills and solutions to overcome them. UNICEF and WFP continue focus on employing tools of innovation to achieve sustainable development impact. 
The partnership also reflects both agencies' commitment to the Sustainable Development Goals and a shared strategic direction to employ innovation for development, while also supporting the green economy and community-based solutions in Jordan. 
UN entities involved in this initiative
UNICEF
United Nations Children's Fund