WFP is working to beat food insecurity in Jordan amid COVID-19 pandemic
WFP delivers food assistance to refugees through cash transfers. Every month, nearly half a million refugees receive either US$21 or US$32 each.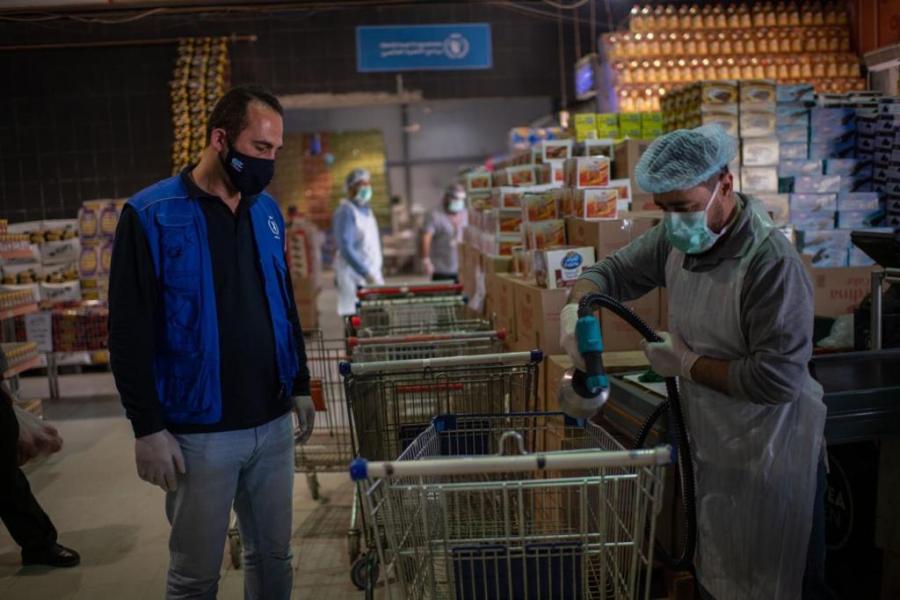 Photo | WFP Jordan
Movement restrictions remain tight across Jordan as the country of nearly 10 million seeks to stem the spread of COVID-19 — where nine have died from the virus and there are currently 461 confirmed cases.
But what does this mean to the refugees who depend on WFP? In March, WFP provided food assistance to 870,375 refugees.
A lifeline for nearly 500,000 refugees
WFP delivers food assistance to refugees through cash transfers. Every month, nearly half a million refugees — mainly from Syria, but also from Iraq, Yemen, Sudan, and Somalia — receive either US$21 or US$32 each, depending on their vulnerability status, to buy food and cover other basic needs.
In March WFP started transferring assistance ahead of the usual scheduled time to allow refugees to stock up on food in anticipation of a full lockdown.
Refugees living within Jordanian communities can use their assistance by withdrawing cash from 115 ATMs dotted around the country, or from more than 200 contracted shops people can access in different locations. WFP has also deployed mobile ATMs to allow refugees living in remote areas, and people with disabilities, to claim their assistance and buy food. WFP also works with retailers to strengthen home delivery services for people with disabilities.
In camps, refugees can redeem their assistance at WFP-contracted shops and bakeries, where buying food is made easy through innovative technologies, such as blockchain and iris-scanning.
WFP transfers around US$14 million every month to refugees in Jordan.
"Our priority is to ensure that vulnerable refugees receive their entitlements in a timely manner — half a million refugees rely on WFP's monthly cash assistance to meet their families' food needs," says Susan Robertson, WFP's Head of the General Food Assistance Programme.
"This support is crucial, particularly at this time when many have lost other sources of income."
WFP's supply chain team and field monitors based in the camps work closely with retailers to ensure the pre-positioning and availability of high-quality food products inside both camps in case of emergencies. A stock of dry food is in place that will last for two months. Fresh food is being replenished on a regular basis.
Robertson adds: "Maintaining a nutritionally balanced diet is critical to strengthening people's immune systems in order to fight off infection, without WFP's assistance, the vulnerability of refugees to malnutrition and illness would increase".
Fighting COVID-19
WFP has distributed hygiene and protective equipment to staff and worked closely with UN agencies and NGO partners to raise awareness about the coronavirus by sharing information on multiple social media platforms and other channels used by communities and partners.
In Azraq and Zaatari camps, WFP works to keep refugees safe while shopping for food by sanitising areas and trollies in its contracted supermarkets and bread shops regularly, ensuring that refugees practise safety measures including social distancing.
"To date, no case of COVID-19 has been reported among refugees living in camps. It is important to ensure that we take all protective measures to keep refugees safe at such a critical time", says Hussam Ghaleb, WFP's Head of Mafraq Field Office.
Listening and responding to vulnerable people
WFP has had to close its community help desks because of COVID-19, but continues to operate its call centre remotely and respond to people's questions and concerns. The hub receives around 2,300 calls while helpdesks in both camps receive around 200 inquiries every week. Operators respond to queries, feedback and complaints, and make referrals to other services as appropriate, particularly when issues of protection arise.
"In light of the limited movement, one of our major challenges is access to information since few of us are on the ground," says Rola AlKhaleeth, a WFP Protection Officer. "A two-way communication is important, and we need to continue listening to the people we serve to ensure that their voices are heard, and action is taken accordingly."
WFP works with UN agencies and uses joint platforms to share and receive accurate information to and from communities through social media and call centres.
Data collection to serve people better
In view of the current situation, many organizations need to change the way they work. WFP has introduced some modifications to its systems and processes and has launched its first remote monitoring exercise in Jordan. The remote data collection exercise, through telephone, was designed to collect refugees' feedback about their experience in redeeming cash assistance during curfew hours and to understand the effect of COVID-19 on access to food. The detailed information gathered through this exercise allows WFP to refine its assistance, and this translates into WFP ensuring no one is left behind.
WFP is also monitoring useful information related to supply chain, such as food shortages or price spikes. This helps the organization to understand market dynamics and take action.
UN entities involved in this initiative