Press Release
UNEP and UN-Habitat launch Community-based Urban Garden Project in Queen Rania Al Abdullah Park
06 October 2022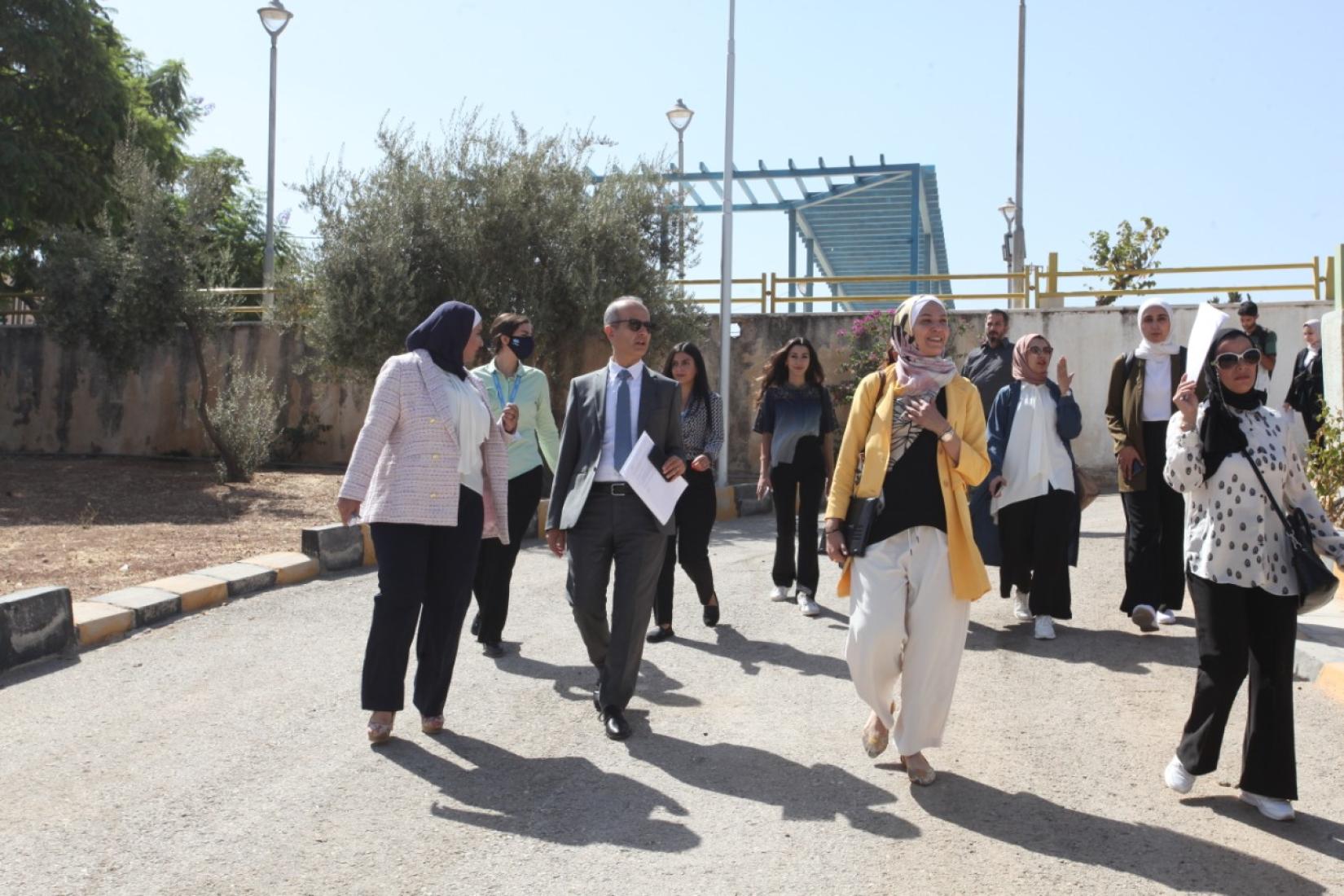 In partnership with United Nations Environment Program (UNEP), UN-Habitat Jordan in collaboration with Greater Amman Municipality, launched the Community-based Urban Garden Project in Queen Rania Al Abdullah Park. This component falls under the framework of the regional project "Inclusive, safe, resilient and sustainable development in urban areas hosting Syrian refugees in Jordan and Turkey".
The Deputy Director of the City for Community Development, Mr. Hatem Hamlan, stressed the importance of the project and its future repercussions on economic and social development to reach sustainable development by achieving food security, economic empowerment, and income generation. He pointed out that GAM Strategic Plan (2022-2026) includes the establishment of 12 parks in the capital Amman, with the aim of serving citizens, providing a healthy environment, and mitigating climate change effects. He concluded by praising the UN-Habitat's selection for Queen Rania Al Abdullah Park as a place to implement this development project.
According to the Manager of the park, Ms. Rasha Al Shawarbeh, the project aims to raise awareness of the importance of agriculture in increasing the green cover within urban areas, reducing the impact of climate change, and achieving food security. She also expressed optimism about the success of the project, which will serve as a partnership model that achieves sustainable community development.
Additionally, Mr. Erfan Ali said, "the support continues for climate action in the Arab region for sustainable urban expansion and building the capacity of cities to address the effects of climate change and increase the green cover within urban and populated cities." He pointed to the willingness of the UN-Habitat to support nature-based solutions and ecosystem-based adaptation, and to cooperate with the United Nations Environment Program to promote adaptation to climate change in Arab cities and build capacities in the field of green recovery.
Eng. Deema Abu Thiab said that this pilot project will be the beginning of the development of open spaces and the increase of sustainable urban agriculture in residential neighborhoods, which if replicated, will assist in achieving food security within cities for residents and refugees and in achieving integration between the community and its local institutions. Moreover, the UN-Habitat's consultant, Mohammad Asfour, gave a presentation on the project, which addressed the challenges, reality, and solutions for the successful implementation of the project.
UN entities involved in this initiative
UN-Habitat
United Nations Human Settlements Programme
UNEP
United Nations Environment Programme