Story
UNHCR: Syrian refugee in Jordan goes from dream job to any job to no job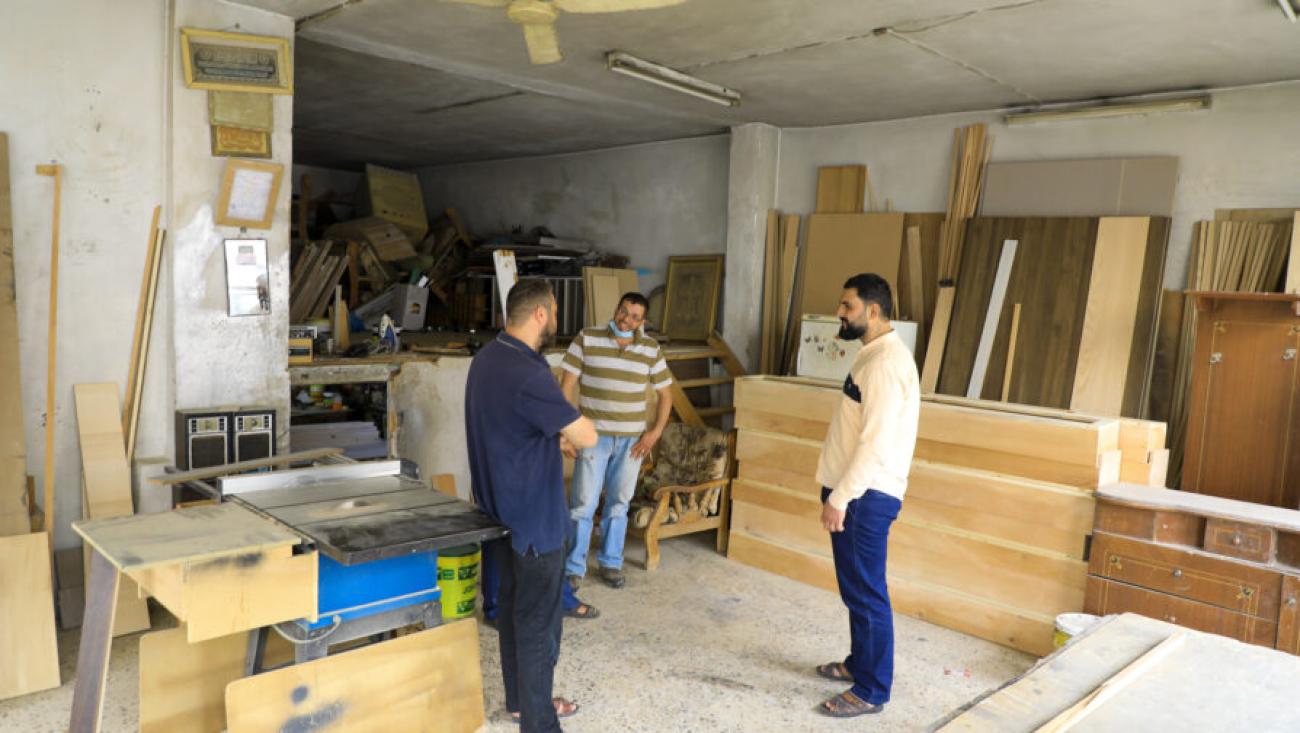 Close to becoming a qualified pharmacist before fleeing the conflict, Huthaifa is among those slipping into poverty as the odd jobs he and other refugees in Jordan rely on dry up.
Huthaifa, 31, sighs as he lists all the jobs he has worked in since arriving in Jordan as a refugee from Syria eight years ago. "Construction, tiling, demolitions, painting, a mobile phone shop, the vegetable market," he says. The only common thread is that all are a far cry from his preferred career: pharmacy.
But after years of frustration at not being able to find work in his chosen field, he now faces a far bigger problem. Soaring unemployment and the economic turmoil caused by COVID-19 have made finding any kind of steady work a challenge for many refugees and Jordanians alike, and Huthaifa is among those sliding into debt and struggling to support his family.
Back in Syria, he was on his way to becoming a qualified pharmacist, having already overcome challenges including dropping out of school early to support his family. It had been getting a job aged 18 at a pharmacy in Homs run by a family friend that had transformed his fortunes and led him to set his heart on the profession.
"For four years I worked in the pharmacy as an assistant. I learned the names of all the medicines, developed relationships with the customers, and developed a love for this specialty. Finally, I saved enough money to go to university," Huthaifa says.
During the first two years of his pharmaceutical sciences degree, he continued to work evening shifts at the pharmacy after studying during the day.
But his dreams of becoming a qualified pharmacist were dashed by the outbreak of conflict, putting an end to his work and studies and eventually forcing him to flee to Jordan in 2014, following his older brother who had left the previous month. "The whole neighborhood was destroyed. There was nothing left for us in Syria."
After finding an apartment in Zarqa – a sprawling city northeast of the capital Amman – Huthaifa began to look for work. "I went to the local pharmacy to see if they had any openings, but they requested a degree certificate. Even with six years of experience all they wanted was the certificate. But I had never graduated."
Frustrated, Huthaifa resigned himself to working on construction sites like his brother and other friends who had fled Syria. Although he had no experience, he learned the trade "brick by brick" and developed a network of contacts who would call him when they needed extra hands.
"I felt my experience was being wasted, but there was nothing I could do," he says.
Now married and with a fourth child on the way, Huthaifa's financial situation has recently become dramatically worse, and in the past two months, he has fou nd only four days' work.
"Now every morning I go down to the market street and walk shop to shop to ask if there is any work or if anyone has jobs that need doing. The answer is always the same: 'maybe tomorrow'," he explains.
With the majority of refugees in Jordan relying on income from daily work, the current outlook is bleak. While more than half of those living outside camps have some form of employment, whether formal or informal, the income many receive is not enough to prevent them from slipping into poverty. A recent assessment found that 64 percent of refugees in the country now live on less than 3 Jordanian dinars (US$4.2) a day.
The worrying trend underlines the need for continued support to the 675,000 registered Syrian refugees in Jordan and 5.7 million in the wider region, as well as the countries and communities hosting them. Supporting sustainable and inclusive economies that allow refugees and their hosts to thrive will be one of the challenges facing international donors at a conference on the future of Syria and the region on 10 May in Brussels.
For Huthaifa, who until now has relied on working hard and learning new skills to overcome the odds, his situation is becoming desperate. "I haven't paid my rent for four months. I haven't paid the water and electricity bills for a year and a half since we moved into this house. We survive by the grace of God," he says.
Forced to sell the food coupons the family receives to try to keep up with overdue rent, Huthaifa regularly buys food on credit at the local supermarket, and with his debts piling up he feels embarrassed to leave his house for fear of judgment.
"Often, we only cook twice a week. Other than that, we rely on scraps of food left over in the fridge. On the difficult days, I have to send my children to my brother's or neighbor's house to eat."
Having run out of options, all he can do is continue the daily cycle of searching for work. His dream of becoming a pharmacist feels further away than ever, and the best Huthaifa can hope for now is a steady wage.
With little prospect to return to Syria – Huthaifa believes it is not yet safe – he says he dreams of a stable job in Jordan. "All I wish is to be paid regularly, on time and with an income that I deserve."
UN entities involved in this initiative
UNHCR
United Nations High Commissioner for Refugees