Press Release
Inaugurating Al Zohour Green Triangle Pilot Project as a mitigation measure against flash floods in Amman
31 May 2022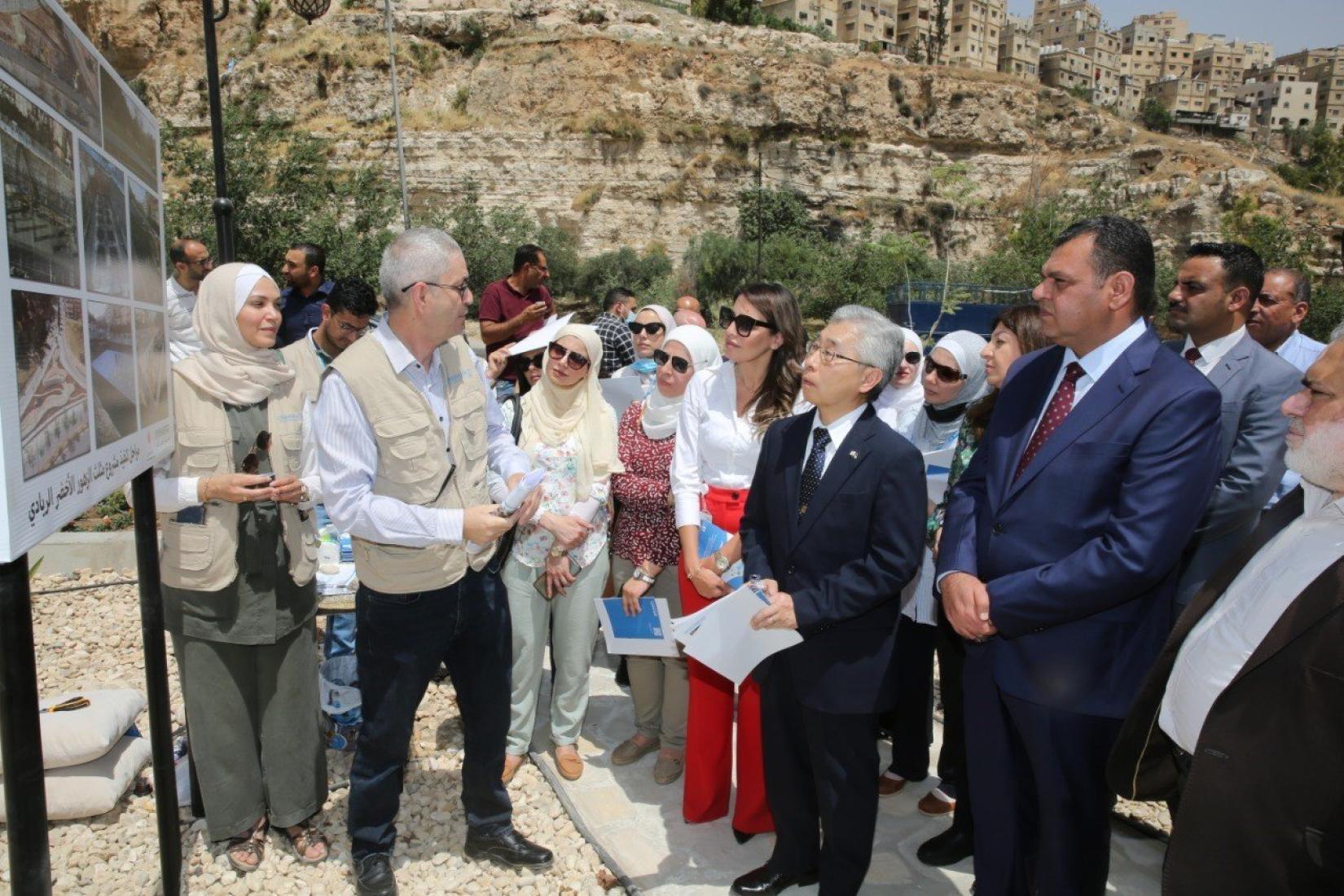 Al-Zohour Green Triangle pilot project was inaugurated in Ras Al-Ain in the presence of His Excellency the Japanese Ambassador, Mr. Shimazaki Kaoru, the Deputy Mayor of Amman, Mr. Muhammad Rasmi Al-Qaisi, and the National Programme Coordinator of the United Nations Human Settlements Program (UN-Habitat), Eng. Deema Abu Thiab.
Al-Zohour Green Triangle is part of a bigger project called, "Strengthening the Social Stability and Resilience of Vulnerable Jordanian Communities and Syrian Refugees in Amman against Flash Floods," funded by the Government of Japan and implemented in cooperation with the Greater Amman Municipality. This project aims to strengthen the government and community's resilience and capacities to better manage flash floods. This was done through community consultations, awareness raising campaigns, training, and capacity building on flash flood resilience, as well as through piloting flood mitigation measures that can be replicated in different areas using sustainable stormwater drainage systems and green infrastructure approaches.
The pilot project is a demonstration of green infrastructure, or what is known as "Sustainable Urban Drainage Systems" (SUDS), which is a set of water management practices that aim to harmonize modern drainage systems with natural water processes by adopting techniques to deal with surface water run-off through the collection, storage, and cleaning of rainwater before it is slowly re-released into the existing stormwater system. Eng. Deema Abu Thiab explained that this project seeks to demonstrate two concepts for rainwater management, namely "bio-retention and rainwater detention", whereby it aims to improve the protection and resilience against flash floods in the city of Amman by providing a series of above-ground bio-retention areas and an underground rainwater storage tank with a capacity of 2500 m3. She further stressed that this pilot project is located in one of 120 sites identified for the implementation of short- and medium-term green stormwater infrastructure interventions through the "Flood Risk Assessment and Hazard Mapping Study" of Amman.
His Excellency the Japanese Ambassador, Mr. Kaoru, expressed his appreciation for the completion of the project and the productive cooperation between the Greater Amman Municipality and UN-Habitat Jordan Programme.
Mr. Al-Qaisi explained that this project is being implemented for the first time in the city of Amman as part of the Municipality's strategy to reduce the risks of climate change and that its importance stems from the Municipality's keenness to increase the city's and communities resilience against flash floods and to enhance the social stability of those most affected.
In his speech on behalf of Amman Mayor, Dr. Yousef Al Shawarbeh, Mr. Al-Qaisi valued the strategic partnership with UN-Habitat and their efforts in addressing urban challenges associated with rapid urbanization and in mitigating the negative effects of climate change. He thanked the Japanese government for its continuous support of infrastructure projects in Amman, which will raise the quality of life in the city. He additionally showed his appreciation to the supervising technical team from GAM for their fruitful efforts in implementing the project.
UN entities involved in this initiative
UN-Habitat
United Nations Human Settlements Programme