Press Release
UNRWA Student Wins the UNICEF Environmental Project: Layan's Environmental Awareness
23 March 2022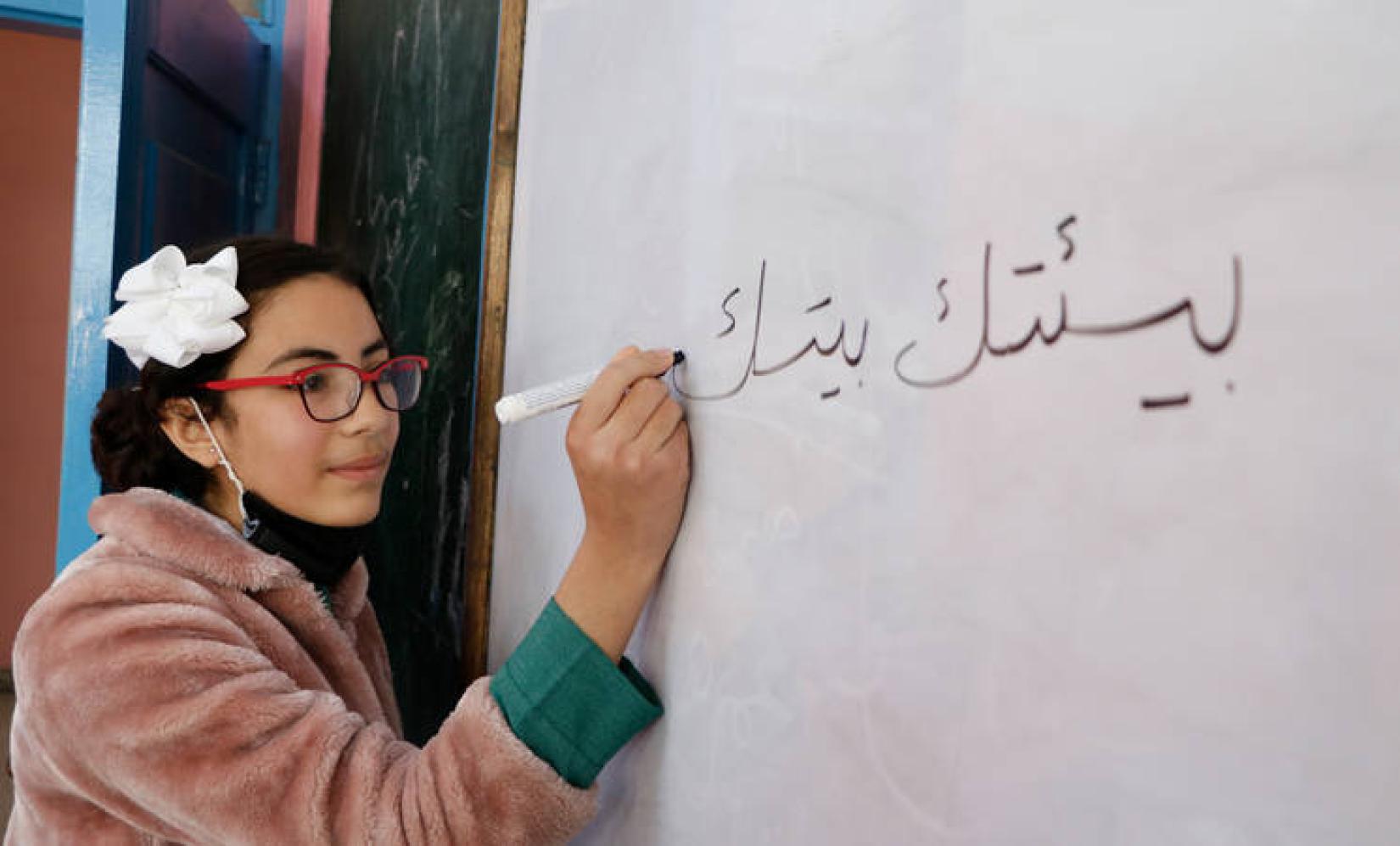 "I believe that raising awareness is key to protecting the environment, that's why the idea of creating this video occurred to me," said Layan Al Bairouti, a Palestine refugee student at the UNRWA Baqa'a Preparatory Girls' School (No.1) in Jordan. Layan entered her environmental awareness video to the UNICEF Environmental Project under the theme "reducing plastic". Representing her school, Layan's video ranked first out of 300 submissions in the Middle East and North Africa region. This International Women's Day and United Nations Gender Equality Month, UNRWA is celebrating Palestine refugee women and girls who pioneer ways to mainstream climate action in their communities as part of their everyday lives. Together with their communities, they foster gender equality today, for a sustainable tomorrow.
"It feels great to know that my video won at the regional level," said Layan. "I decided to create the animation video because I wanted to address my peers in a different way and inspire them to be, like me, interested in protecting the environment."
Her short, animated video included her fellow eighth graders and enabled them to share their voices and deliver the important message of climate action for a better environment. The video showcased some environmentally-friendly best practices, such as reducing the use of single use plastic and recycling. In her video, Layan also encourages community action to reduce pollution, which harms both animals and environment. "I feel sad when I see on the TV and on the internet the negative impact of plastic waste on our planet's wildlife." Layan added, "We can change that. We need to save our planet. It's our responsibility."
"I am proud of my daughter's achievement", says Siham, an UNRWA Teacher at Baqa'a Preparatory Girls' School (No.1). She continues, "Layan is a big friend of the environment and I fully support her interest!" With her mother's assistance, Layan managed to create the awareness video using a cartoon video maker app called "TweenCraft". "During the COVID-19 pandemic, technology was a useful way for me, as a mother and teacher, to make the process of online learning easier. I created instructional materials and offered interesting new ways for students to learn and work together," she said.
Watch her video here:
UN entities involved in this initiative
UNRWA
United Nations Relief and Works Agency for Palestine Refugees in the Near East