Press Release
FAO launches a project to formulate a sustainable aquaculture strategy in Jordan
14 December 2021
The Food and Agriculture Organization of the United Nations (FAO), the Ministry of Planning and International Cooperation (MOPIC) and Aqaba Special Economic Zone Authority (ASEZA) launched today a project funded by FAO to formulate a sustainable aquaculture strategy in Jordan. The implementation of the activities will start in January 2022 and will continue until December 2022.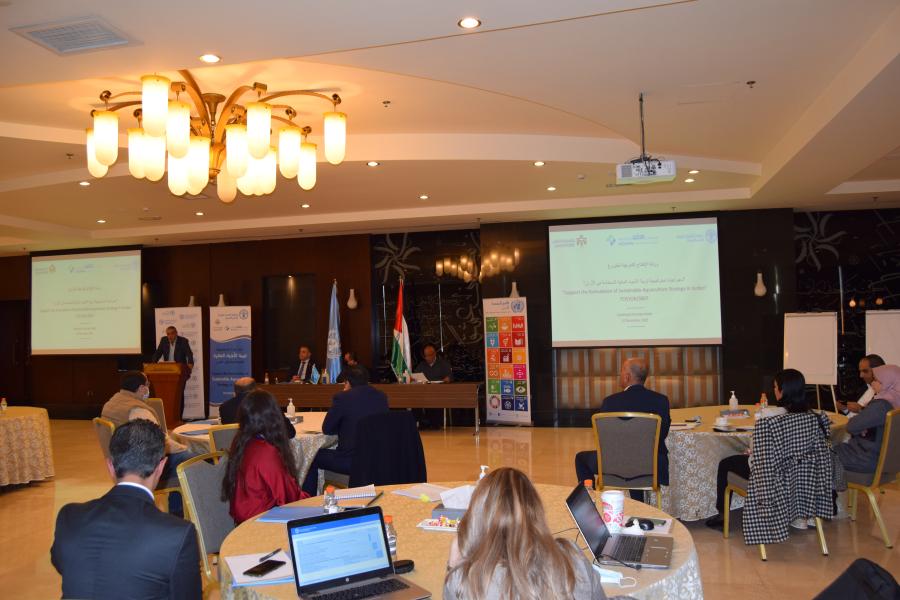 In line with a technical cooperation agreement signed between the three parties last month, FAO conducted an inception workshop to acquaint stakeholders and programme partners with the scope and outlines of the project entitled:  "Support the formulation of Sustainable Aquaculture Strategy in Jordan". The workshop also covered the implementation strategy and work plan.
The workshop was under the patronage of his Excellency Mr. Nasser Shraideh, Minister of Planning and International Cooperation and attended by representatives from the Aqaba Special Economic Zone Authority, Ministry of Agriculture, Ministry of Environment, Ministry of Water and Irrigation, the National Agricultural Research Center, in addition to the Association of Fish Breeders and Marine Biology, and the Jordan Aquaponics Association.
The objective of the project is to support the Government of Jordan in developing proper planning and sector management tools for sustainable aquaculture development to contribute to increasing fish productivity in rural agricultural communities and the private sector through the development of well-managed technical practices and the strengthening of technical capabilities in aquaculture innovation - Including training on biologically secure fish farms and solar energy - solar powered fish farms, water recycling systems using high-tech filters and treatment to reduce water consumption through establishing a pilot Fish hatchery project).
The overall and long-term impact of the project is to increase national production of fish products, and to contribute to food security through the availability of an important local source of animal protein.
FAO Representative in Jordan, Eng. Nabil Assaf, said, "Aquaculture in small farmer systems provides high quality animal protein and essential nutrients, especially for nutritionally vulnerable groups, such as pregnant and lactating women, infants and preschoolers. It also provides this protein at prices generally affordable to the poorer segments of the community." "It creates 'own enterprise' employment, including jobs for women and children, and provides income through sale of what can be relatively high value products." Added Assaf.
On behalf of the Minister of Planning and International Cooperation, H.E Dr. Marwan Al-Refai, confirmed "this project comes within the framework of the implementation of Jordan National Food Security Strategy that was recently adopted by the government. It is an innovative pilot project that will enable us to test the possibilities of spawning and raising fish on land using sea water, providing the required knowhow, and identifying the strengths and challenges that it might encounter.' He also praised the role of FAO in promoting agricultural development, food security and climate adaptation in Jordan.
Mr. Abdullah Abu Al-Awali from ASEZA stated, "The Aqaba Special Economic Zone Authority is fully confident that this project, will contribute to achieving the goals of protecting the marine environment and fish wealth in the Gulf of Aqaba. It will also enable the authority to assess the success of fish farming operations on land and to identify the challenges in this field." He added that "it is anticipated that this project will contribute to strengthening and raising the capabilities of the fishermen community and local cadres in Aqaba in the field of fish farming."
FAO launches a project to formulate a sustainable aquaculture strategy in Jordan
UN entities involved in this initiative
FAO
Food and Agriculture Organization of the United Nations