Story
Working mothers in Jordan face barriers to social protection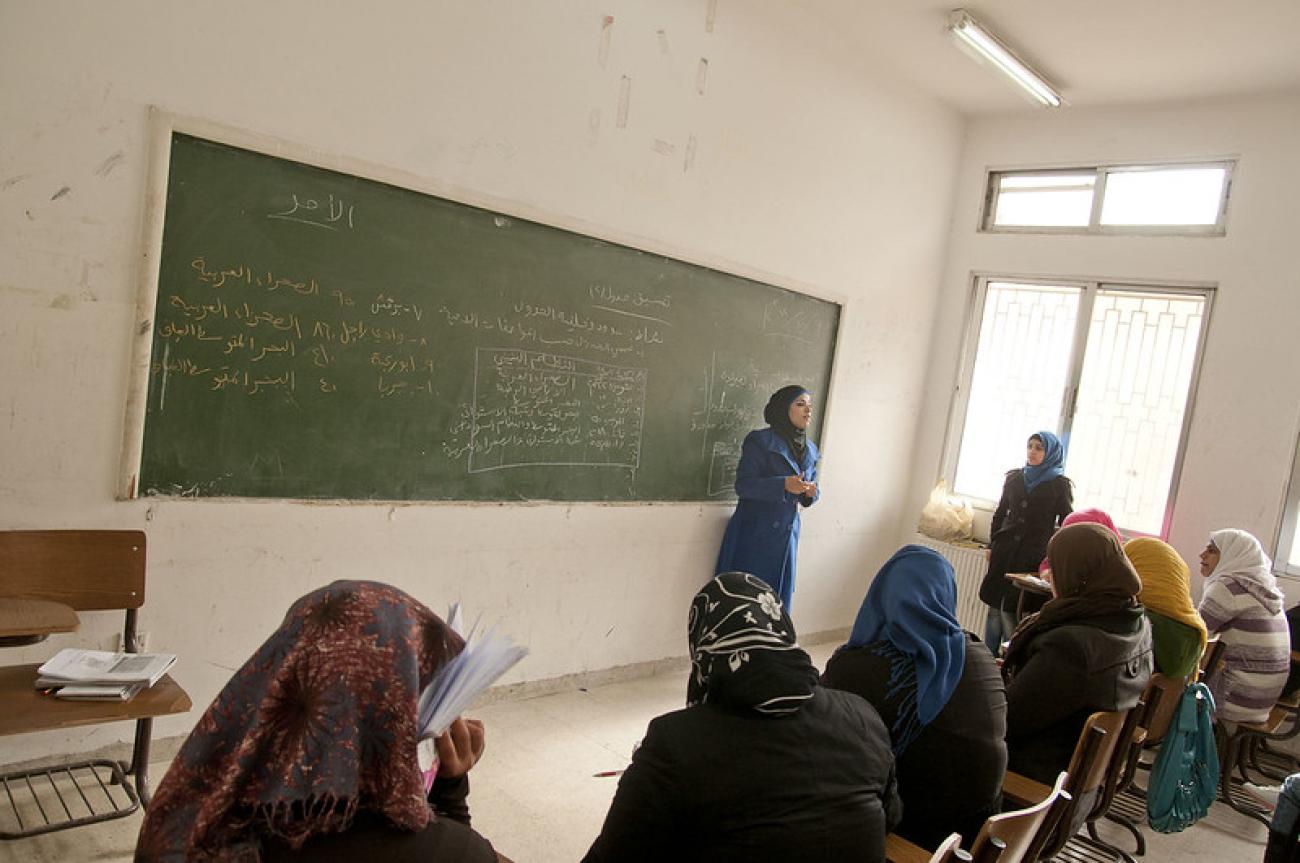 This story emphasises the need for enhanced support for women and men with family responsibilities in Jordan, helping them improve work-life balance.
Maternity protection is key to achieving gender equality at work by protecting working mothers' jobs and wages, while at the same time alleviating poverty and advancing decent work.
When Hanaa got pregnant in the summer of 2019, she did not know she would lose her job.
The 27-year-old math teacher told her school that she wanted to train a replacement to cover her absence while she was on maternity leave.
However, school management decided that it would not renew her contract in early 2020 "due to her pregnancy and its demands, including maternity leave".
Hanaa was not rehired even though Article 27 of the Labour Law  prohibits termination of employment of a "pregnant working woman beginning from the sixth month of her pregnancy or during maternity leave."
"Hanaa worked at a private school in the capital Amman for two years, and she did not expect that decision," said Hiba Abu Ghneim*, a complaints officer with the Stand-up with the Teacher campaign , supported by the International Labour Organization (ILO ).
"Management informed Hanaa that the school policies required a pregnancy test, and that her employment contract may not be renewed because of her need for days off and maternity leave," Abu Ghneim added.
Hanaa is unemployed now.
Article 77 of the Jordanian Labour Law grants female workers 10 weeks paid maternity leave. Maternity benefits are covered by the Social Security Corporation (SSC),  under maternity provisions of the Social Security Law . SSC spokesperson, Shaman Majali, said 20,000 working mothers have already received maternity benefit since 2020.
In 2020, Jordan endorsed a maternity protection regulation to help empower and retain private-sector working mothers in the labour force, in a move welcomed  by the ILO. Around 28,000 families/households can benefit from this maternity protection.
The regulation provides working mothers with cash benefits, to enable them to return to work while securing childcare for their children either at a childcare facility or at home. It also allows for registered childcare centres to receive direct cash benefits to cover operational costs.
Abu Ghneim said "Hanaa's issue is not an isolated case."
"The campaign handles many complaints from female private school teachers, who are losing their jobs due to pregnancy and childbirth," she added.
The Association of Private School Owners has also been advocating for the end to discriminatory practices. Munther Surnai, president of the association, rejects "termination of employment of any female teacher due to marriage or pregnancy".
"The association repeatedly demanded schools refrain from requiring pre-employment pregnancy tests," he said.
Violations
In the northern city of Irbid, Suaad, worked for 11 years at a private school, but when the 33-year-old woman got pregnant, management terminated her employment.
And as if that were not enough, her social security subscriptions had been paid for only 6 years of her service.
"Her employer did not pay all the contributions … the Campaign and the Ministry of Labour (MoL) intervened, and Suaad reached a financial settlement with the school. She accepted the settlement because she was in need of money," Abu Ghneim said.
Other women are known to sacrifice their maternity leave, or part of it, due to their need for employment in a country where the national estimate of unemployment for women exceeds 30 per cent, compared to more than 20 per cent for men.
"If an insured woman works during maternity leave, she is required to repay the SSC all maternity insurance allowances," said Majali.
"And if she is forced by her employer to suspend her maternity leave and return to work, she should file a complaint to the Ministry of Labour."
He added that "SSC inspectors detect evasion or fraud, but sometimes it is not detected unless the employee files a complaint".
An ILO-commissioned Assessment of the Maternity Insurance in Jordan  has found that violations of maternity provisions, generally most common in the private education  sector, disproportionately affect female teachers, who make up almost 90 per cent of the workforce in education.
"One month into my maternity leave, management asked me to return to work. I could not refuse because I needed the job, and my husband was unemployed," said Rasha, 30, an English-language teacher at a private school in the southern Red Sea port of Aqaba.
She had to send her child to a daycare facility at her own expense because management did not provide workers with workplace childcare services.
"It was a very bad experience for me and my family. My child stopped breastfeeding, and I was never compensated for my overtime work," added Rasha, who is currently unemployed because she says she cannot find a job.
Women routinely face discrimination based on their family status. Rasha has friends who have told her that their employers require teachers to take pregnancy tests at the start of every school year, and refuse to renew employment contracts for pregnant women.
Working mothers
"Social security covers that period (10 weeks)," as mandated by law Majali explains.
Prior to 1996, maternity leave under the Labour Law was six weeks, according to MoL spokesperson, Mohammad Zyoud.
This is still short of the minimum period of 14 weeks recommended by ILO Convention 183 - Maternity Protection Convention, 2000 (No. 183) and the more preferable 18 weeks as suggested in ILO Maternity Protection Recommendation, 2000 (No. 191).
According to Article 44 of the Social Security Law, insured women are entitled to maternity benefits "within the period specified in the Labour Law" which is currently 10 weeks (70 days). In the public sector, the Civil Service Regulation grants female workers a fully-paid 90-day maternity leave.
"I had to take unpaid leave from work, and requested to take all my annual days off because the 70-day maternity leave is not enough to care for my child," said Shatha, 27, a nurse in a private hospital in Amman. She gave birth to a baby girl in November 2020.
"I need four months until my child grows a little and becomes capable of eating solid food. I want to be able to send her to a nursery," added Shatha, demanding that all female workers in the public and private sector get equal maternity leave.
Under Article 70 of the Labour Laws, a working woman is "entitled to a full paid maternity leave before and after delivery." This leave "shall be 10 weeks provided that the period subsequent to delivery shall not be less than six weeks", and "it is prohibited to make her work before the expiry of that period". Following the expiry of maternity leave, a working woman is entitled to "paid intermittent period(s) for nursing her newborn for a year starting from delivery date, and the total … shall not exceed an hour per day," according to Article 71 of the same law.
Latest SSC statistics show that around 1.25 million active male and female workers -- or nearly half of Jordan's labour force -- are registered with the SSC.
Of the approximately 390,000 SSC-registered women, 32 per cent work in the public sector and receive maternity benefits through their own mechanism regulated under the Civil Service Regulation . The remaining women in the private sector are eligible to receive these benefits through maternity insurance.
Women working in the private sector can claim maternity insurance benefits after subscribing to social security for six consecutive months.
Maternity protection
Faten, 30, a mother of two, agrees with Shatha.
"I gave birth to my second child in March 2020, and had to quit my job at an engineering company in Amman to care for my newborn," said Faten.
"The 70 days are not enough for my recovery, and for my baby girl, who needs to be able to eat solid food … especially in light of the closure of nurseries," due to the impact of COVID-19 on Jordan.
Globally, women workers have been disproportionately affected by the pandemic, increasing the risk of losing much of the modest progress made on gender equality in recent decades, and exacerbating work-related gender inequalities.
I work now outside my specialty of telecommunications engineering, but at least I spend more time with my child because I work fewer hours," added Faten.
The ILO assessment report  has called for a maternity protection system in Jordan, emphasising that such protection is essential for safeguarding the nutritional needs, health, and wellbeing of mothers and their children.
Maternity protection is also key to achieving gender equality at work by protecting working mothers' jobs and wages, while at the same time alleviating poverty and advancing decent work.
Despite women's economic empowerment efforts in Jordan, female labour participation is still low at 14 per cent, compared to 54 per cent for males, according to Jordan's Department of Statistics (DOS).
The figures are likely to remain low unless better ways are introduced to support mothers and all women and men with family responsibilities, helping them improve work-life balance.
UN entities involved in this initiative
ILO
International Labour Organization