Story
Desperate mother finds help in Jordan for stateless daughter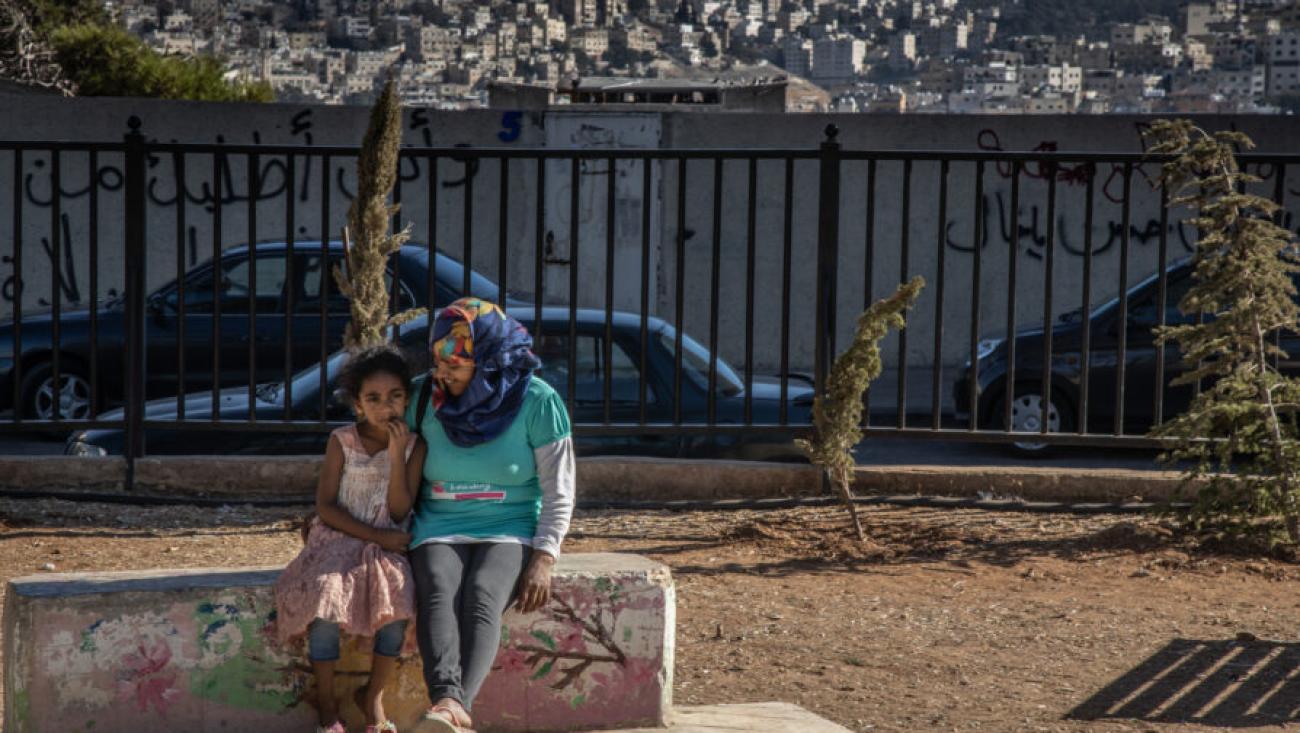 Beset by financial hardship and lack of official documents, UNHCR offer hope to Sri Lankan mother Siryana of end to daughter Rania's statelessness plight.
Six-year-old Rania has faced a number of challenges in her short lifetime, and the day she was born was no different. In December 2013 Amman was in the grip of a severe winter storm, with deep snow blanketing the deserted streets of the Jordanian capital. 
"No one was outside and there was no way of getting to the hospital, so I gave birth by myself," Rania's mother Siryana, 35, recalled. "The room was so cold and I had no gas left for the heater, so all I could do was wrap her in blankets. She was so tiny I was scared for her, but I realized then that she is stronger than she looks." 
The biggest challenge now facing Rania is the fact that she was born stateless. Originally from Sri Lanka, Siryana came to Jordan in 2010 and met Rania's father – a security guard from Sudan – near the house where she worked.  
When she sought her family's blessing for their marriage, they refused. Angered by her decision to convert to Islam, they threatened her should she ever return to Sri Lanka. Shortly afterwards, Rania's father-to-be returned to Sudan and never came back, leaving Siryana pregnant and alone. 
Because Rania was born at home, Siryana had no official record of the birth. Lacking paperwork of her own, which she had left back in Sri Lanka with her family, she was unable to obtain a birth certificate for Rania.   
Statelessness affects millions of people around the world, often denying them access to basic rights and the official recognition that most people take for granted. 
"The fact that she didn't have any papers or citizenship made me anxious all the time," Siryana said. "I had a constant fear that she might be taken away from me."  
They lived in a tiny rented single basement room and often had to rely on help from friends just to feed themselves.  
Struggling to make ends meet and desperate to address Rania's lack of legal status, in 2016 Siryana approached UNHCR – the UN Refugee Agency – for help. They were registered as refugees and a lawyer from UNHCR's legal partner in Jordan – Arab Renaissance for Democracy and Development (ARDD) – was appointed to handle Rania's case. 
Their lawyer – Rami Qowaider – was able to initiate a legal process with the Jordanian authorities in order to obtain a birth certificate for Rania, which is an important first step on the road to securing her Sri Lankan citizenship. It also meant that Rania could enroll in school and begin her education.  
"I want her to learn and go to school. I don't want her to end up like me," Siryana said. "I tell Rania to be better than me, to study well, study as much as you can and I will help you as much as I can." 
But there remained complications. Sri Lankan law allows a parent to confer nationality to children born abroad if the birth is registered within one year. As Rania's birth certificate was not obtained until she was four years old, Siryana is required to go through an extra step, of providing her own birth certificate, to secure citizenship for her child.  
For now, Siryana's own birth certificate remains in Sri Lanka. Without it, she is unable to apply for citizenship for Rania, who currently remains in legal limbo with all the risks that entails. 
"The situation is very difficult, and she is at big risk," Qowaider explained. "Statelessness means that a person may be vulnerable to human trafficking, exploitation and unable to access services such as health care."  
In consultation with the Sri Lankan embassy in Amman, Qowaider has agreed a solution that requires Siryana to obtain a certified copy of her original birth certificate from Sri Lanka, which she will take to the embassy to complete Rania's paperwork.  
The last remaining hurdle for Siryana is the cost involved in applying for the paperwork and sending it to Jordan, which she cannot currently afford. The coronavirus crisis has also further exacerbated the situation, causing delays in obtaining the documentation she needs for Rania. But with legal and financial help from UNHCR & ARDD, there is a solution in sight. 
One solace for Siryana throughout their travails is that Rania's happy and playful spirit has never wavered, her wide, gap-toothed smile constantly lighting up her face. "If she's happy, I'm happy," Siryana said. "I only care about my daughter's future." 
UN entities involved in this initiative
UNHCR
United Nations High Commissioner for Refugees