قصة
The road to my dream - The hope we have when given a second chance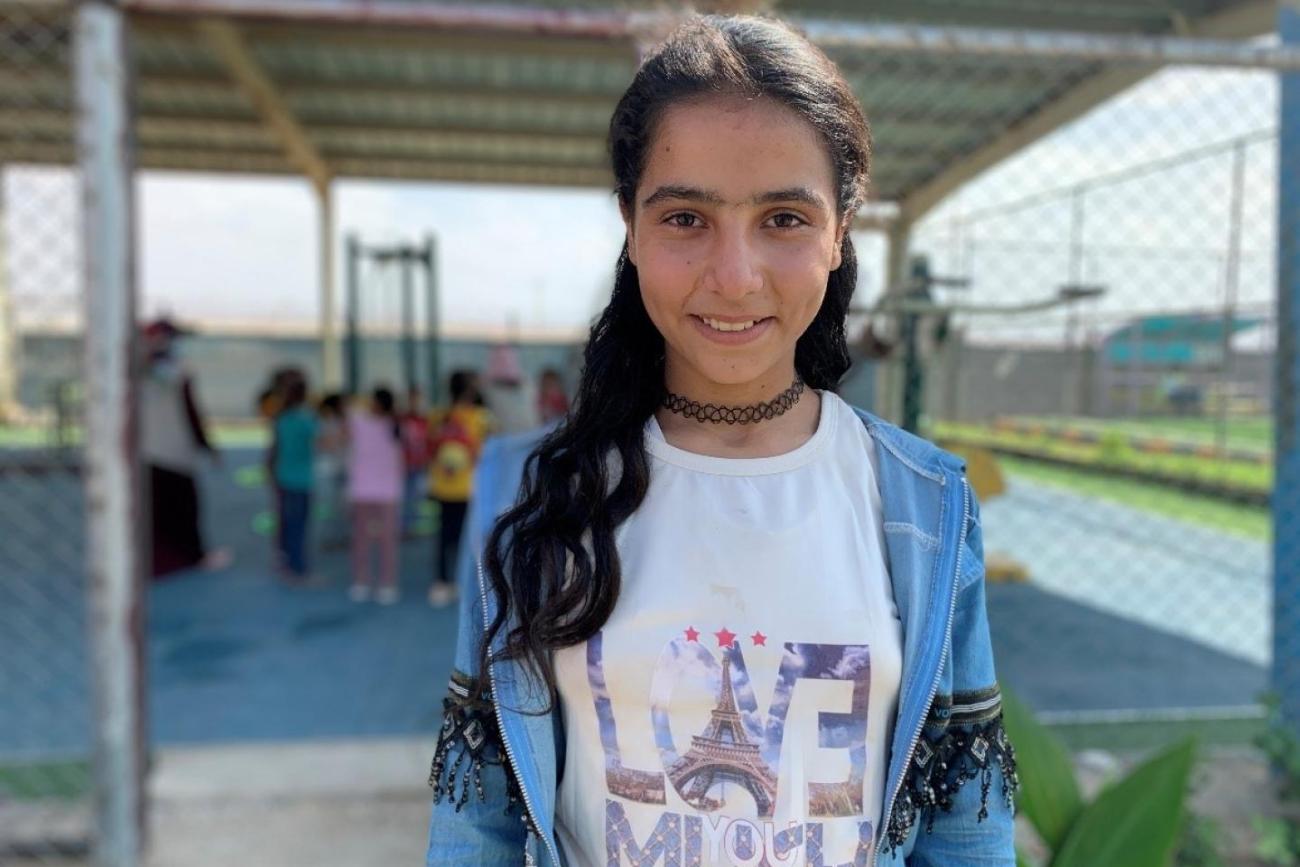 "The teachers and Makani staff are always telling us that we can achieve any dreams and to me that's precious because this is my chance to change my life".
At the age of 7 years old, Shaima'a had no choice but to flee the once peaceful countryside she was growing up in to escape conflict. She left everything behind, including her home, many of her belongings and her education.
"My earliest memory here in the camp was going to the supermarket and feeling safe" she reminisces. "I don't remember the exact moment I arrived here in Azraq though because I was so little".
Since arriving at Azraq Refugee Camp in Jordan just over 5 years ago and now 12 years old, she has had a second chance at getting the education she had always wanted. Not only was she enrolled in school but also a UNICEF-supported Makani centre.
A second chance
Shaima'a never had a real chance to become settled into education. She had always wanted to go to school but with the conflict in Syria escalating rapidly, the situation for children, in particular girls, became dire.
"Back in Syria there were no schools safe to go to" says Shaima'a. "If I wasn't here in Azraq, then I wouldn't have started school already".
At Makani centres, children of all ages participate in several informal education activities.  Children acquire literacy, numeracy and computer skills, which helps them in their formal education.
Thanks to the US Fund for UNICEF, girls like Shaima'a are enrolling in learning support services in Makani centres, where they receive extra support specifically in Arabic and Maths. This support is proving to be vital for Shaima'a in moving closer towards her ambitions. 
"A couple of years ago, my aunt developed a sickness and became paralyzed for a time. We thought she would never be able to walk again but doctors cured her and now she walks as normal" explains Shaima'a.
"This has greatly inspired me to want to become a physician and therapist for people who need rehabilitation" says Shaima'a. "In order for me to achieve this, education is a must".
Educational skills in key subjects such as numeracy are not the only sessions children are involved in. While Biology and Mathematics are her favourite subjects at school, Shaima'a can find other ways to express herself at the Makani centre.
"A Makani centre is a wonderful place for us to be in" Shaima'a explains. "We can do sports here; we can go to the gym and I also do music here. It's not only a place for learning, but also a place to have fun!".
Schools and Makani closures
When the COVID-19 pandemic hit Jordan, schools and Makani centres closed in Azraq Refugee Camp for the safety of the population. For girls like Shaima'a, the closures proved to be another difficult new life adjustment.
"When schools were closed, I was devastated" she explains. "We had to do online learning, and to be honest, it's just not the same as being in a school with teachers and friends. When they opened, I was so excited just to see other people again!".
The value of education for girls such as Shaima'a cannot be underestimated. It gives them a pathway full of hope. "I just love school and the Makani centre because it is the road that will take me towards my dream of becoming a physician" says Shaima'a.
"The teachers and Makani staff are always telling us that we can achieve any dreams and to me that's precious because this is my chance to change my life".

Shaima
كيانات الأمم المتحدة المشاركة في هذه المبادرة
UNICEF
United Nations Children's Fund