The UN Resident Coordinator Office
The United Nations in Jordan is represented by 17 resident agencies, funds and specialised programmes, working together to deliver as One UN through the coordination, development and implementation of activities.
The United Nations Country Team in Jordan is supporting the Government of Jordan in the implementation of Agenda 2030 for Sustainable Development, bringing together the expertise and capacity of the humanitarian and development communities.
The Sustainable Development Goals (SDGs) are central to the realisation of Jordan's national objectives, as stated in its national plans and calls for a comprehensive and coherent approach mainstreamed in the interlinkages of the SDGs.
The UNCT strengthens its approach through multi-stakeholders and partners process that translates into national ownership, promoting and mainstreaming human rights.
Given the challenges faced by Jordan in a volatile region, the UN has aligned its work with the principles of the Prevention Agenda promoted by the Secretary-General Antonio Guterres in increasing the Kingdom's resilience to external shocks.
As head of the country team in Jordan, the Resident and Humanitarian Coordinator steers the collective leadership of the UNCT towards more coherent, effective, and accountable support to Jordan.
The UN Resident Coordinator in Jordan
Before taking up this position in March 2017,  Anders was the UN Resident Coordinator and UNDP Resident Representative for Botswana.
Before that, Anders was Chief of Staff at the Swedish International Development Cooperation Agency (Sida) between 2010 and 2012; Director, Department for Democracy, Human Rights and Gender Equality also at Sida from 2008 to 2010; Chief, Methods in Development Cooperation Unit at the Swedish Ministry for Foreign Affairs, 2007- 2008; and Secretary-General of The Four Nations Initiative on Governance and Management of the UN Sweden in 2006-2007.
He has served with the UN as Coordinator of the Europe, North America and Central Asia Unit in the Office of the UN High Commissioner for Human Rights in Geneva, 2004- 2006; Chief, UN Human Rights Office in Angola, 2003-2004; Chief, Human Rights Division, in Angola, 2001-2003. Before that, Anders held various positions in the Swedish Foreign Service such as First Secretary, Democratic Governance Coordinator, Embassy of Sweden in Zambia, Second Secretary, Permanent Mission of Sweden in Geneva; First Secretary, Office of the Minister for Foreign Affairs, Ministry for Foreign Affairs in Sweden; and First Secretary, Ministry for Foreign Affairs in Stockholm. Anders also served as a Human Rights Legal Adviser to the UN Mission in El Salvador; Associate Protection Officer, UN High Commissioner for Refugees in El Salvador and Associate Protection Officer in UNHCR in Honduras.
Early on in his career, Anders was a Legal Adviser at the Secretariat of the Swedish Red Cross in Stockholm, 1987-1989. He holds a Master's degree in Law.
The Resident Coordinator Office's team
The UN Resident Coordinator and Humanitarian Coordinator is assisted by a highly professional and committed team comprised of: 
The UN Resident Coordinator Office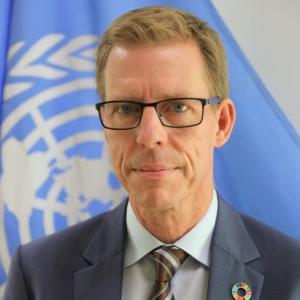 Anders Pedersen
UN Resident Coordinator and Humanitarian Coordinator